Khalid Aziz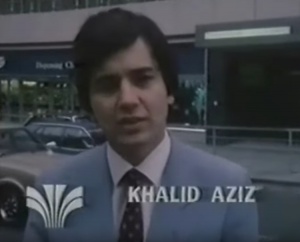 Biography
Former BBC presenter and producer who presented Look North from Leeds (what, Harrogate?) when he was only 24. After working on Panorama and Newsbeat, he left the BBC after 12 years and moved to the newly-launched TVS in 1982 where he was the first person seen on screen and became lead anchor for Coast To Coast in the South. He also presented Enterprise South, an award-winning buisness magazine programme.
Currently he is Professor of Business Communications at the University of Southampton and has his own corporate training company.
Trivia
Used to parade his pet puppy, called Coaster, on Coast To Coast.
When ITN's News at 5:45 was cancelled one night due to a bomb alert, Khalid read from a joke book instead...for 15 minutes.
Web links
Feedback