Let's Make a Love Scene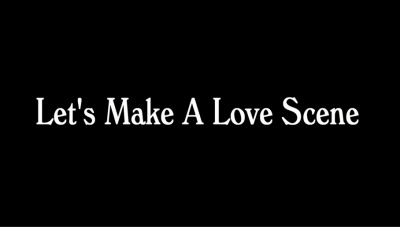 Host
Co-hosts
Initmacy consultant: Rufai Ajala
Acting coach: Emma Crompton
Broadcast
Talkback for Channel 4, 13 May 2022 (1 episode + 1 unaired)
Synopsis
The dating show that asks the question: can a single person find love by faking it in re-creations of sexy movie scenes? And 42 minutes plus ad breaks later, answers it: no. One picker re-creates movie love scenes with three pickees, and at the end chooses the one they felt the most chemistry with. They go on a date, a caption tells us they split up, roll credits.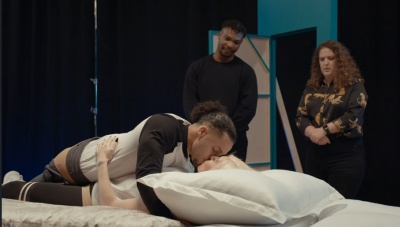 Rehearsing a bedroom scene with intimacy consultant Rufai and acting coach Emma looking on
Which is not to say that the programme isn't entertaining, at least in parts. The makers know we're all much more aware of the issues around intimacy on set these days, and accordingly devote a lot of time to demonstrating how such issues are dealt with. This how-do-they-do-it element of the show is actually quite interesting, more so than the matchmaking element, which sadly makes the completed scenes themselves (and the choosing of a winner) something of an anti-climax.
Trivia
Two episodes were made, but only one aired - and we never quite got to the bottom of why. The natural assumption is that C4 saw the ratings for the first and panicked, but that doesn't stack up: both episodes were supposed to be released on All4 simultaneously, but that didn't happen either, and the episode which did air was the planned second episode, which would seem to imply that there was an issue which C4 expected to be resolved within a week and all they had to do was flip the intended order - so likely a licensing issue. Whatever the reason was, the missing episode never turned up. A repeat of 8 Out of 10 Cats Does Countdown was parachuted into the vacant slot instead.
The films re-created were 9½ Weeks, Mr & Mrs Smith and Out of Sight in the broadcast episode, and Ghost, The Notebook and 50 Shades of Grey in the Secret Forbidden Episode Of Doom.
Web links
Feedback