Lionel Blair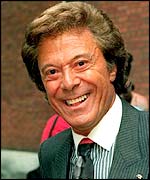 Biography
Choreographer and tap dancer whose troupe appeared regularly on TV in the 1960s. His fame as a dancer was, however, far eclipsed by his fame as a regular contributor to TV panel games in the 1980s.
He died on 4 November 2021, aged 92.
Trivia
Decades after Give Us a Clue finished, he was still the affectionate target of double entendres on I'm Sorry I Haven't a Clue.
He appeared in the 2010 BBC series The Young Ones, along with 5 other ageing celebs who felt that they were struggling and no longer able to do the things they used to do: they all lived together in a house for a period of time in an attempt to cope better and rediscover their former abilities. It seemed to work well for all concerned: Blair himself was soon able to get back into the dancing-scene.
He also appeared in the 2017 series of The Real Marigold Hotel, living in India with 7 other celebs, this time considering India as a place to live out his final years.
He made a welcome cameo appearance in an edition of Last of the Summer Wine, with a bit of dancing involved, appropriately enough.
Web links
Feedback