Mark Curry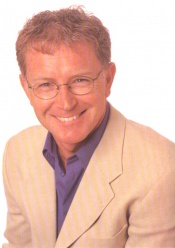 Biography
Blue Peter presenter in the late 1980's, famed for on-air gaffes such as knocking the head off a lego statue and losing control of a miniature train and crashing into the scenery (no mean feat, considering it was a very small amount of scenery in a very large studio). Before that, he had hosted such kids' programmes as 'Get Set For Summer', 'The Saturday Picture Show' and 'Treasure Houses'. Still pops up on telly from time to time, selling things on shopping channels and the like.
Trivia
For a while in the 2000s he ran a dating agency called It Takes 2.
During his time on Blue Peter, Curry always did his best to avoid any high-up activities, because he suffered from vertigo (he usually managed to leave that kind of thing to the late Caron Keating). However, he did manage to ride the sails of a windmill, go on the 'Big One' rollercoaster at Blackpool Pleasure Beach and climb up a telegraph pole (even if the latter did take him considerably longer than the rest of the climbers). Pretty good going really. What he much preferred doing, though, was anything that involved singing and dancing - well, he was an actor originally.
Not a gaffe in the true sense, but Curry apparently managed to upset some Blue Peter viewers when his bare backside was briefly shown as he went into a shower following a mudbath in Russia. The whole thing was certainly done in the best possible taste, but clearly some viewers (presumably the parents, not the kids?) considered even mild nudity like that inappropriate on a children's programme.
Contact
Jo Gurnett Personal Management Ltd, No. 2 New King's Road, London SW6 4SA
Web links
Feedback