Masterpiece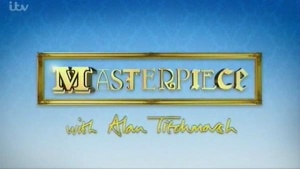 Host
Alan Titchmarsh and Rachel Houston-Holland
Broadcast
Spun Gold TV for ITV, 15 February 2016 to 12 June 2017 (40 episodes in 2 series)
Synopsis
Alan Titchmarsh takes an antiques quiz to a stately home.
Three pairs of players face four challenges. There's Valuation, selecting the most valuable item from a number of options. The Stately Home Challenge has the players looking round a couple of rooms for items meeting specific clues. Distinctly Vintage asks is this car older or newer than the last. And Bamboozle asks what various devices were used for.
The winning team from each round gets first pick of the Masterpiece Gallery, three items that all look valuable. Only one is worth more than £10,000. With three teams and three items, the teams will collect one item from each round. The team with the most "masterpieces" at the end of the show wins the day's prize of £1000.
During the show, we get to see a little of the historic house, and a glimpse of some of the grounds. But make no mistake: this is an antiques programme. There's no general knowledge element, the show rewards knowledge of the items and of the precise values of collectables.
Rachel Houston-Holland keeps the values, explains the antiques, and generally comes across as knowing much more than her co-host. Alan is a gentle presenter, the show moves at quite a clip. It's helped by another winning soundtrack from Paul Farrer.
Inventor
Devised by Alan Titchmarsh and Spun Gold Television.
Title Music
Music composed by Paul Farrer.
Trivia
Often billed as Masterpiece with Alan Titchmarsh.
Web links
Further details about the antiques are at http://www.itv.com/alan
See also
Feedback