Michael Parkinson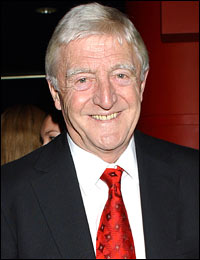 Biography
Parkinson was born in Barnsley in 1935, an only child who grew up in a mining village close to Grimethorpe Colliery. He was really more a journalist and chat show presenter than game show host, but he has presented a couple of panel games in his long career.
Cut "Parky" in half and you'd find the word "Yorkshire" written right through him. He was a passionate follower of the game of cricket.
He died 16 August 2023, aged 88.
Trivia
His mother used to design knitting patterns.
He was knighted in the 2008 New Year Honours list, although he admitted he'd happily trade it in for his own 'cap' for Yorkshire Cricket Club.
He hosted an early-90's ITV series entitled "The Help Squad", a sort of cross between "Jim'll Fix It" and "That's Life", in which his team of roving reporters, which included former Jeopardy! host Chris Donat and Annabel Giles, would help find solutions to people's problems.
Probably the most famous (or rather infamous) moment in Parky's TV career is that moment when he was very dramatically attacked by, in his words, "that bloody bird" Emu and his handler, Rod Hull, on a 1976 edition of "Parkinson". Parky was, by all accounts, very upset about the whole thing (even if he eventually did see the funny side, albeit some years later), but Noel Edmonds revealed in his book 'The Multicoloured Noel Edmonds' that the reason for Parky's initial adverse reaction was the fact that he had a bad back and was worried that it might not stand up to such an attack. (Edmonds had also suffered at Emu's hands (or should we say Hull's hand and Emu's beak?) on "Swap Shop"; admittedly far less dramatically and painfully, but enough so for him to feel sympathy for Parky). Still, at least there was one celebrity at the time who wasn't going to take any horseplay from Hull and Emu: Parky's next guest after the attack was Billy Connolly, who warned Emu, "You peck me and I'll break your neck and his arm!"
Books / Tapes
Sporting Profiles (audio cassette)
Web links
Feedback