Money Pit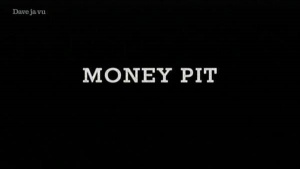 Host
Co-hosts
Dominic Frisby (analyst)
Elizabeth Carling (narrator)
Broadcast
Liberty Bell for Dave, 29 October to 17 December 2015 (8 episodes in 1 series)
Synopsis
A crowdfunding show that owes a lot to Dragons' Den.
A group of rich people - we reckon about 50, contributing an average of £2000 per episode - hear pitches from entrepreneurs. After they've described their business ideas, and answered questions, and explained what they'll do with the money, the entrepreneurs leave the pit.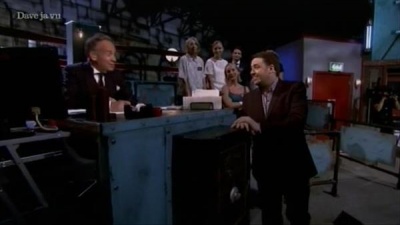 Dominic and Jason share a joke.
Then some traders take orders. Backers can put their contribution into one or more projects, they can move their money about. Should the project prove popular, it will be closed - the maximum amount is a hard maximum. And if the project doesn't reach its target, it will receive no money. The business owners will get the exact amount they came for, or nothing.
Elizabeth Carling's narration drives the show along, often the film clips are illustrating her story. Jason Manford interacts with the business people asking and giving money, and Dominic Frisby keeps the statistics.
Money Pit is an upmarket programme, perhaps more so than we might expect from Dave. It makes some effort to hide the fact that the backers are rich people - all are portrayed as successful, none as rolling in it.
Key moments
The guy who turned up with a pitch for pre-stained pants, failed to mention the name of his product in his pitch, offered rewards as opposed to shares, and still got investment. You wouldn't get this on Dragons' Den.
Theme music
Kevin Kerrigan composed a full neo-classical score.
Trivia
For legal reasons, the backers had to invest into a holding company, The Money Pit (Liberty Bell) Limited.
Web links
See also
Feedback