Murder Island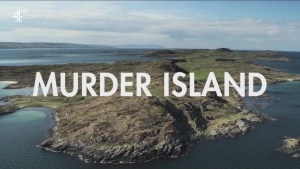 Host
Hannah Donaldson (voiceover, in character as "Charly Hendricks")
Co-hosts
Mentor/judges: Parm Sandhu, Simon Harding, Graham McMillan
Broadcast
STV Studios and Motion Content Group for Channel 4, 5 October to 9 November 2021 (6 episodes in 1 series)
Synopsis
On the fictional Hebridean island of Hirsa, amateur detectives attempt to solve a murder mystery devised by Rebus author Ian Rankin.
The basic plot is simple: there's been a murder. Pairs of amateur sleuths are tasked with one task: work out who did it, and provide enough evidence to convince a sceptical prosecutor that there's enough evidence to go to court.
The detectives are ordinary people, putting their skills to the test. They're helped - or hindered - by recently retired police officers, and by actors playing the roles of suspects.
Murder Island had an unusual - and very effective - style. Footage of the detectives doing their interviews was intercut with dramatic reconstructions of the events shown. It's far more interesting than a simple talking head, and gives us information that might not be available to the detectives.
Narration was provided by the deceased victim - a gimmick that became background noise in very short order. Confessional comments from the mentors and the detectives were dropped in to progress the story.
Hard evidence was disclosed at the producers' convenience, basically to ensure that nobody suspected the culprit until a massive swerve in the penultimate episode. For our money, that was a bit too much of a giveaway, but was necessary to ensure the show could end on time.
Over the course of the series, pairs of detectives were "taken off the case" by Marm, until just one pair remained. The final couple knew who had done it, but could they amass enough evidence to convince the Prosecutor?
Though slotted into the plum slot after Bake Off, Murder Island suffered for ratings, struggling to attract more than a million viewers. A confusing start, and dull second episode, turned many people off. It deserved better: the story was plotted well, told well, and we could believe the detectives were investigating a proper murder.
Champions
Sarah and Richmond, who convinced the prosecutor that they had a case and won the £50,000 reward.
Title music
Kenny Inglis, credited as "Composer"
Web links
See also
Feedback