Musicality
Host
Not known
Co-hosts
Judges: Mary King, Gareth Valentine, Stacey Haynes, and Clive Paget (all stages), Julia McKenzie (final audition only)
Broadcast
Diverse for Channel 4, 3 November to 1 December 2003 (5 episodes in 1 series)
Synopsis
Follow-up to Operatunity, this time seeking people to star in the stage musical Chicago, albeit for one night only. This version of the format had a more solid round-by-round elimination process.
If you can help us to expand this entry, please provide as much information as possible, using the feedback form below.
Champions
Rebecca Dent, Caroline Graham, Matthew Goodgame, Donna Hazelton and Warren Sollars
Pictures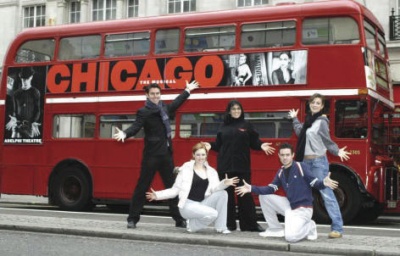 The winners of the series
Web links
Diverse Productions' Musicality episode guide via archive.org
See also
How Do You Solve a Problem Like Maria? took the concept a stage further.
Feedback