One Question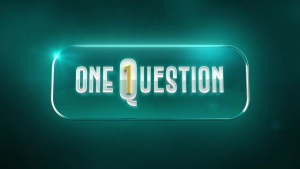 Host
Broadcast
Chalkboard TV and Motion Content Group for Channel 4, 24 June 2022 to present
Synopsis
Contestants are challenged to eliminate nineteen incorrect answers to a question, leaving one correct answer.
Claudia Winkleman is the host, welcoming pairs of players to the game. After a brief introductory chat, we're down to business.
The players see a question. For instance, "What is a potato?" "What happened in the year 2000?" "What is a circle?"
One by one, the players then see hints and indications to things that might answer the question. Most of them don't. For instance, "The item that the nursery rhyme character Little Miss Muffet is eating".
After the players have seen five of these definitions, Claudia invites them to "delete" two of them. These are wrong answers, leading to things that do not answer the original question. Two must go, however unsure the team might be. And, of course, if they "delete" the right answer, the game ends at once.
Repeat that for three more rows of five answers. Twenty answers have been given, eight have been deleted, so the one right answer to the one question is amongst the twelve remaining.
Once the team's down to twelve possible answers, they can buy a clue. This is additional information about a particular answer: it won't directly reveal the answer, but it might help work out what it is - or that it's completely irrelevant to the question. Clues cost £10,000.
Claudia has two more offers up her sleeve. When the team has precisely six possible answers – no more, no less – she will offer to remove two wrong answers. The team will select three answers, and Claudia will randomly remove two wrong ones. The one that's left might be right, or it might not – the two that go are certainly wrong. It'll cost £25,000 to use this lifeline.
Once the team gets down to three answers, there's no more opportunity to buy a clue. Instead, the team needs to pick the one right answer from the remaining three options. Or Claudia can remove one wrong answer, making it a 50-50 pick, but it'll cost half the money remaining.
In theory, the players can stop the game at any point and say, "Yes, that's the right answer", but we don't expect anyone to ever have that bravado and confidence. More likely, we finish with a guess (or good deduction) from the remaining answers. Winning teams are unlikely to take the maximum £100,000, most take between £20,000 and £60,000.
One Question has a style, a clear visual identity. Claudia is always in black, and hides behind her trademark fringe. That's all the better for the reaction shots, especially when the team suddenly loses.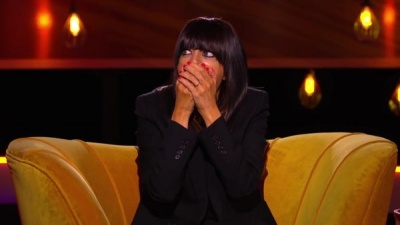 Lady One Question says: "oh no!".
At heart, One Question has similarities to Channel 4's long-running daytime show Deal or No Deal. The central conceit is similar – "no questions, except one". The chase for a huge prize, the wonder of what would make an acceptable smaller win, and the way it's really a show about the contestants and their attitude to risk.
Some have criticised One Question for being a bit slow and drawn out. That's the whole point. The main idea is Claudia and the team, working together to try and find the one true answer, and eliminate the imposters. They'll chat, they'll laugh, they'll make entertainment out of it.
It's easy to get drawn into the game, there's plenty of playalong value. We think we know the answer, we reckon we know what is a potato, but are we sure? Are we £55,000 sure? There's proper, palpable tension when the team ride their hunches, and that gives us permission to cheer for their win.
Key moments
Shiralee and Emma failing to read their correct answer correctly and trying to eliminate it. Future Glow Up contestant On-May was great fun on her episode too.
Inventor
According to the credits, "Original format owned by Chalkboard TV, Elephant TV, Motion, and TF1. Based on an original idea by Thierry Bizot and Marc-Antoine Cleret. This game has benefitted from the Society of Game Authors' (SAJE) Creation Aid."
Theme music
Philip Guyler, credited for "Music".
Trivia
The series took an unplanned break after episode three to accommodate a Conservative leadership debate. When the series was repeated in the twilight hour in late January/early February 2023, they aired episode six between episodes three and four.
Web links
See also
Feedback