Pants on Fire
Host
Co-hosts
Donna Preston and Verona Rose, Zac Alsop and Jamie Rawsthorne, Bobby Mair and Harriet Kemsley (resident challengers)
Broadcast
Fulwell 73 for E4, 10 October to 14 November 2019 (6 episodes in 1 series + 3 unaired)
Synopsis
An E4 press release said:
Three teams of fearless comics will plot their own crazy and outrageous challenges. They could come up with anything - from swimming with sharks to winning a pro-wrestling battle royale.
Then, in front of a studio audience and a celebrity jury, the three teams will present evidence to help prove that they have completed their audacious stunts. The celeb panel will interrogate the teams to figure out if they are telling the truth or telling fibs.
Will the teams have authentically pulled off these improbable stunts, or have they just been pulling a fast one?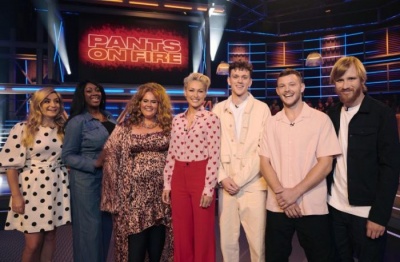 The regulars: Harriet Kemsley, Donna Preston, Verona Rose, host Emma Willis, Zac Alsop, Jamie Rawsthorne, Bobby Mair.
The shows went pretty much as one might expect from the description. Meet the three pairs of players, and find out what daring stunt they've attempted this week.
A pair of guessers (on the opening show: Jimmy Carr and Scarlett Moffatt) give their first thoughts on whether the dare was achieved, or if they're hearing lies from folk whose pants are on fire. To help, we hear that at least one of the stunts succeeded.
Clips from video diaries are played in, explaining the task further, and showing some of the prep for it. After each clip, the guessers can alter their guess from "true" to "false" or back again. A "false" guess is shown by a video effect of flames behind the challengers, which is meant to demonstrate their smouldering breeches.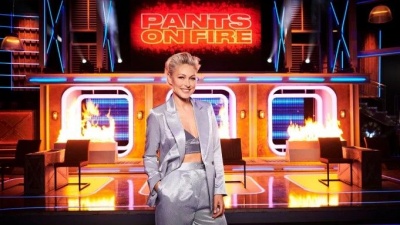 Emma Willis prepares for the night shift at Burger King.
Eventually, we all hear that - yes - two comedians did travel from Europe to Africa in a pedolo. No, two comedians did not win their masked wrestling match, they were beaten badly, quite literally. Kudos or embarrassment for the guessers, and praise for the stunters - whether they succeeded or not, they put themselves through hell and real pain for our entertainment.
Pants on Fire proved to be a disappointment. There's nothing new in deception panel games - Would I Lie to You? has been going since the invention of television. There's nothing new in daring stunts, a real-life drama with a genuinely unknown end. The combination was novel, but the show fell flat - too much chunter in the studio, not enough jeopardy, and the scale of the stunts was lost. Viewers decided "naah" and watched other shows instead.
Inventor
Based on Streetlab Niet te Geloven by Jongstra and Stafleu, created by CCCP Television, distributed by Newen Distribution. The original show is a spin-off from Streetlab, a good-natured programme where friends try to get into unlikely places and ask people to do strange things.
Theme music
Justin Wilkes at TV Beats, credited for "Original Music"
Trivia
Originally aired at 9pm on Thursdays on E4, with a repeat at around midnight on Monday nights on Channel 4. The last three episodes were broadcast on neither, with All 4 uploading them on 4 December 2020, and very cheekily passing them off as Series 2.
Web links
Feedback