Poker Den
Host
Grub Smith (original commentator)
Broadcast
Challenge, June to ? 2005
Matchroom Sport for five, 24 May 2007 to 2009
Synopsis
Here's interesting - a clever web-meets-TV idea where three members of your commoner gardener public get to rough shoulders with a similar number of genuine poker pros and Beppe off 'Stenders. The ordinary folks qualify on the PartyPoker website for a £8,500 buy-in to the tourney which is played for real at the studios at the end of the week.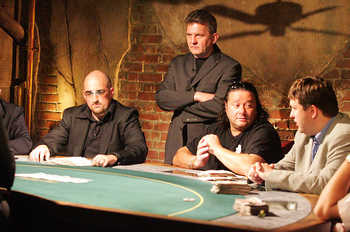 Don't mind me, just doing my job.
The set is, rather predictably, an underground gangster's back room. Full marks to Grub Smith's very witty, slightly smutty and seemingly unscripted commentary (example: 'A pair of Jacks again? What have we got here - a dealer or a photocopier?') which fulfills two things. First, it makes a long and fairly sedentary show more watchable, and second it makes up for those pitiful episodes of Jo Guest: Investigates or whatever it was called.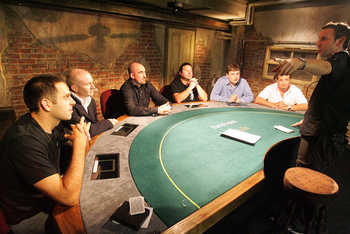 GET OUT, YOU'RE FIRED!!!
Only point of annoyance - the very fiddly use of £50,000 in cash rather than chips. Other than that, it's a highly watchable show that wouldn't look out of place on Channel 4 or five, and certainly it's one of Challenge's best high concept ideas for ages.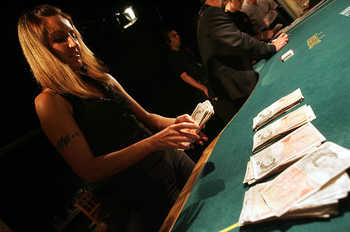 Racking up the cash, oh yeah!
Trivia
Point of interest: a bit like the old Channel 4 talk show After Dark, the programme is open-ended and finishes whenever the game reaches a natural conclusion.
Feedback