Popstar to Operastar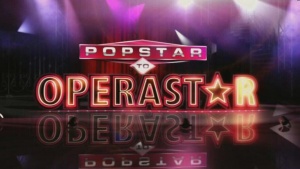 Host
Myleene Klass (2010-11)
Alan Titchmarsh (2010)
Co-hosts
Judges:
Meat Loaf and Laurence Llewelyn-Bowen (2010)
Simon Callow and Vanessa-Mae (2011)
Mentors/Judges: Katherine Jenkins and Rolando Villazón
Voiceover: Marc Silk
Broadcast
Renegade Pictures for ITV1, 15 January 2010 to 10 July 2011 (12 episodes in 2 series)
Synopsis
Myleene Klass and Alan Titchmarsh host as each week eight moderately well-known popstars, under the tutelage of Katherine Jenkins and Rolando Villazón, learn to perform operatic arias. On each live programme, each popstar must perform, after which the judging panel, consisting of the two mentors alongside well-known operatic superstars Meat Loaf (eh?), and Laurence Llewelyn-Bowen (again, eh?), give their verdict on the performance.
After all of the popstars have performed, the phone lines are opened for Joe Public to vote for who they want to see progress to the following week's programme. Following a well-trodden format, the two popstars that receive the fewest public votes must sing again, before one of them is sent packing by the judges. The field is narrowed over several weeks, before two popstars are eliminated in the semi-final, leaving two to battle it out in the final, for the chance to be declared the winner.
For the 2011 series, the presenting services of Titchmarsh were dispensed with, leaving Klass to host the programme solo. Meanwhile, Meat Loaf and Llewelyn-Bowen left the judging panel, to be replaced by actor and writer Simon Callow and violinist Vanessa-Mae.
Participants
2010
Darius Campbell (formerly Darius Danesh from Pop Idol)
Alex James (Blur)
Marcella Detroit (Shakespear's Sister)
Vanessa White (The Saturdays)
Bernie Nolan (The Nolans)
Kym Marsh (Hear'Say)
Danny Jones (McFly)
Jimmy Osmond (The Osmonds)
2011
Andy Bell (Erasure)
Cheryl Baker (Bucks Fizz)
Claire Richards (Steps)
Jocelyn Brown (Soul legend)
Joe McElderry (X Factor winner)
Joseph Washbourn (Toploader)
Midge Ure (Thin Lizzy and Ultravox)
Melody Thornton (Pussycat Dolls)
Champions
2010 Darius Campbell
2011 Joe McElderry
Web links
Official site, via the Wayback Machine
See also
Feedback