Question Team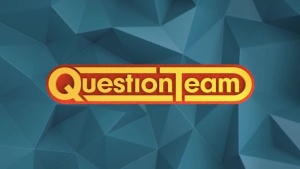 Host
Broadcast
Interstellar for Dave, 12 October 2021 to 31 October 2022 (16 episodes in 2 series)
Synopsis
Three comedians gather to ask each other quiz questions.
All of the rounds have some sort of a twist. In the opening two episodes, we were treated to a "choose your own adventure" music festival...
...questions asked by a comedian jumping out of a plane, a fill-in-the-blanks quiz based on abuse sent to another panellist...
...a scavenger hunt in a tent in the studio, and games with DIY equipment.
Richard Ayoade is the host, and plays along with his guests' rounds. He also asks some questions of his own, except he can't be bothered and sub-contracts that bit to another comedian.
There are a few restrictions: all the questions have to have a proper answer, and each round is worth five points. Other than that, the sky is your limit.
While the concept isn't original - It's Your Round invented parlour games on the radio a decade earlier - Question Team distinguishes itself in the crowded field of television panel shows. It's got ambition and some budget, and allows everyone to indulge their specialist subject for ten minutes.
Best of all, it's totally unpredictable, we never know what will turn up next.
Key moments
Coolio, on his last TV appearance before his death in September 2022, suggesting that 'deez nuts' was a ball sport.
Katherine Parkinson being thoroughly unprepared for a post-watershed comedy show.
Theme music
Stu Barter and Toby Knowles, credited as "Composer"
Trivia
Its pilot had to wait six months to be filmed due to the pandemic, and changed its name from "Who's Asking".
Web links
See also
Feedback