Richard O'Brien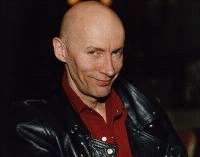 Biography
Actor, writer, musician and madcap TV host, famous for exactly two things: The Rocky Horror Show and The Crystal Maze. Three things, if you include being bald.
Trivia
Born in England, he grew up partly on a sheep farm in New Zealand. That is to say, some of his childhood was spent there. Not that part of him grew up there while the rest of him stayed in England. That would just be silly.
He shaves his head twice a day. He says he likes the feeling of the water hitting his skull when having a shower. Too. Much. Information.
Books / Tapes
Web links
Feedback