Robert Kilroy-Silk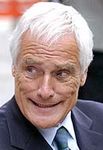 Biography
Former Labour MP turned chat show host. He presented his confessional daytime talk show Kilroy for 18 years until, in 2004, some reprinted comments he made about Arabs forced him out of the BBC and his Daily Express newspaper column. In June 2004, he became an MEP for the East Midlands as a UK Independence Party (UKIP) advocate, helping them to become the UK's third party for a time. The UKIP leader didn't stand aside for him, so for the May 2005 elections he founded his own party, Veritas (Latin for 'truth').
Only barely a game show figure but his performance on Shafted (particularly its hand signal gesture) was so comical we're including him here for comedy value.
Trivia
He used to be a university lecturer.
Contact
c/o Capel & Land Ltd, 29 Wardour Street, London W1D 6PS
Web links
Feedback