Rock Till We Drop
Host
Narrator: Marcus Garvey
Co-hosts
Mentors: Lady Leshurr and Martin Kemp
Musical directors: Alex Montaque and Toby Chapman
Broadcast
RDF for BBC Two, 1 to 22 March 2022 (4 episodes in 1 series)
Synopsis
The BBC's press office tells us:
Spandau Ballet's Martin Kemp and MOBO award winning grime artist Lady Leshurr want to show the world when it comes to rock 'n' roll, you're never too old if you've got the talent.
For this brand-new BBC Two four-part series, they form two rival bands of musicians over the age of 64 and get them to rock out the main stage of the Isle of Wight Festival. It's then up to the crowd of 65,000 to decide which band they love the most…
In just eight weeks, mentors Martin Kemp and Lady Leshurr audition and form their rock bands. Both Martin Kemp and Lady Leshurr also call-in help from top musical director friends as well as renowned stage performers including X-Factor finalist Fleur East, soul singer Mica Paris and the Darkness front man Justin Hawkins.
Despite initial apearances, this was not one of those well-meaning but queasily exploitative shows about tackling social isolation among the older population by getting them to sing "My Generation" and "Fix You". (It's always "My Generation" and "Fix You".) Rock Till We Drop refused to lean into the usual tropes, instead looking to the likes of Paul McCartney, Diana Ross, and the Rolling Stones, still playing to massive crowds in their 70s, and saying "if they can do it, why not?". Auditions were open to anyone over 64, and attracted everyone from home hobbyists to semi-pros. And it delivered on its concept: you could believe that if only they'd had the breaks, these performers could have been up there even without the intervention of Lady Leshurr and Martin Kemp.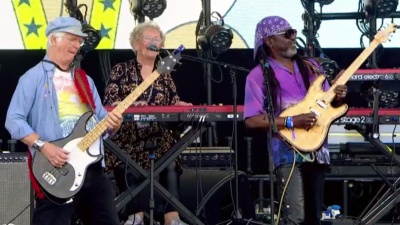 Bassist Richard, keyboard player Eileen and lead guitarist Leburn from Martin Kemp's band, a.k.a. The New Young Elders (And can we just mention what a splendid name that is? OK, done.)
In truth, the press release rather oversold the rivalry. The competition aspect was pushed so far into the background that it was hardly mentioned until the finale performance episode - and ultimately the show benefitted from the low-key, low-stakes nature of the competition. Low stakes? Definitely: the winning band got to perform an encore, and that's it.
Bassist Carol, drummer Arty and singer Bette from Lady Leshurr's band, a.k.a. Band of Strangers.
But if you wanted jeopardy, then Covid-19 supplied it. It was weird enough that the show built to a mass gathering of 65,000 festival-goers at a time when Only Connect was still putting screens between three people on a quiz team. Had they really thought this through? Participants dropped out and returned throughout the process, and while both bands made it to the festival, one had to fall back on a reserve, and mentor Lady Leshurr missed it because she tested positive and was forced into isolation. Indeed, you've got to suspect that forming two "rival" groups was more of a hedge against losing one to Covid-19: as long as one group makes it, you've got a finale and you can just bill it as a straight observational documentary (which is pretty much what it was in the end, anyway.)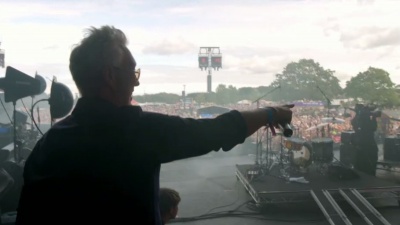 Martin Kemp spots 65,000 people he suspects may not be social distancing
All in all, a well-received feel-good show that never got too syrupy, and which delivered a triumphant ending, rivalry or no rivalry.
Trivia
The show's minimum age, 64, was almost certainly a reference to The Beatles' When I'm 64.
Series three The Apprentice candidate Adam Hosker turned up in one episode as a record promoter, hired to see which team he preferred.
Web links
Feedback