Roland's Rat Race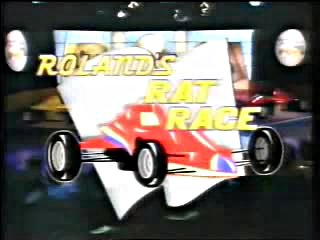 Host
Roland Rat (puppeteer David Claridge)
Co-host
Stan: Roy Sampson (1989 qualifying stages)
Nicholas Parsons (1989 semi-finals and final)
Broadcast
BBC North West for BBC1, 2 January 1988 to 15 April 1989 (24 episodes in 2 series)
Synopsis
Kids quiz where the contestants sat in cars and earnt miles instead of points.
Rounds one to three (or laps, as they called it) consisted of individual rounds on general knowledge, pop music and observation. The final lap was a quick-fire team round.
Inventor
David Claridge
Title music
Steve Jeffries
See also
Weaver's Week review of a 1989 episode
Videos

Part 1 of a 1989 episode.
Feedback