Saturday Night Line Up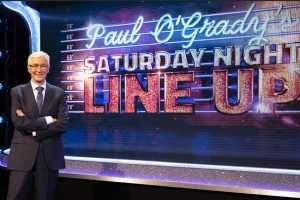 Host
Broadcast
Olga TV / Silver Star Productions for ITV, 11 September to 18 December 2021 (6 episodes in 1 series + 1 special)
Synopsis
An ITV press statement summarised the show.
Each week we have four celebrity guests and they're asked questions like, 'Who's most likely to make a fool of themselves at a showbiz party?' or 'Who's the cleverest?' They then have to line up in the order they think the public will have put them in, and they score points if they get it right.
For our first show, we've got Rob Rinder, Mica Paris, Joanna Page, and Jack Dee, and there were questions like, 'Who's the richest?' The taxman could be watching, so they're not going to put themselves in the number one position for that one!
And there's a chatshow element, too, because the celebs share anecdotes for each question.
The show's motif is a police mugshot board, heights down the side. It's a backdrop for the central conceit: ask the celebs to line up in order of some personal and/or revealing categories.
As is typical of chat shows in the 2020s, the "chat show" element is filtered: the celebs reveal what they want to reveal, in the way they want. Some questions feature photos and videos from home, demonstrating the discussions are not spontaneous. But this doesn't really matter.
The game format is thin, three questions decided by the public, one question decided by a guest celebrity (Ed Milliband! Trevor MacDonald!), and a quickfire round to end the show. One point for each time a celebrity puts themselves in the right place in the order, and there's a cheap prize for the winning celeb.
Primarily, Saturday Night Line Up is a pleasant and well-structured chat show. It's about the shared experiences we've all had, whether long ago or recent. Questions like "who was most popular at school" and "who would have been best to be locked down with" are conversation topics, a framing device to let the celebs entertain us. It could run for years, it could be quietly dropped after one series, and we'd not mind either way.
Theme music
Glyn M Owen and No Sheet Music
Trivia
Polling is by Kantar Research.
ITV were unsure whether the title was "Saturday Night Line Up", or "Saturday Night Line-Up" with a hyphen, or "Paul O'Grady's Saturday Night Line Up" with or without a hyphen. You'd think they could be consistent in their own press pack.
Web links
See also
Feedback