Show and Telly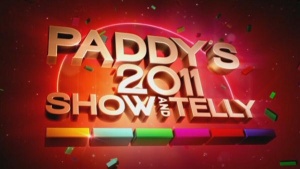 Host
Broadcast
Twofour / Group M Entertainment for ITV1, 29 December 2011 and 22 December 2012 (2 specials)
Synopsis
In a one-off Christmas special, pairs of celebrities join Paddy McGuinness to answer questions about the television of 2011.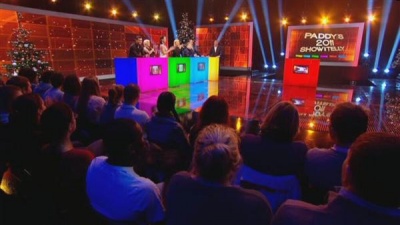 The set could be used to test colour balance.
Beginning with a themed subject round, the pairs of contestants were shown clips from that year's television, and asked a question about events in that area. Further questions followed, including a mystery guest, and liberally peppered with clips. The lowest-scoring pair was eventually eliminated from contention, and the top two played the Planner.
Here, the pairs picked a show from a choice of five, and answered a question relating to it. The winning team were asked further questions by celebrities appearing on video clip, and were awarded £20,000 for charity.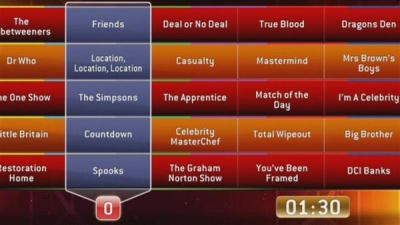 Bring on the connecting wall... oh.
Show and Telly was clearly pitched at a general audience, the subject matter was popular drama and entertainment, with Countdown probably the most obscure show mentioned. As a post-Christmas entertainment, it was more watchable than we expected it to be. It's disposable television, but cheap and cheerful enough to come back for another go in 2012; Denise Van Outen managed to appear there and on the Strictly Come Dancing final at the same time.
Inventor
Developed by Johnny Coller and Matt Pritchard.
Theme music
Marc Sylvan
Trivia
The contenders in 2011 were: Michelle Collins and Melanie Sykes from ITV soaps, Anton Du Beke and Russell Grant from that year's Strictly Come Dancing, and Chrissi Rock and Mark Wright of I'm a Celebrity... Get Me Out of Here!.
For 2012, the players were Denise Van Outen and Nicky Byrne from Strictly Come Dancing, Kate Garraway and Nicholas Owen from the newsrooms, and soap opera actors Antony Cotton and Chris Fountain.
Feedback