Sky Star Search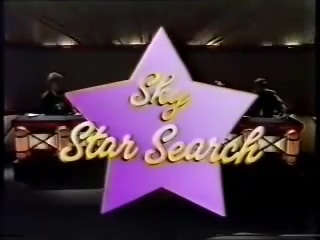 Host
Broadcast
Reg Grundy Productions for Sky Channel, 6 February 1989 to 11 August 1991 (424 episodes in 6 series)
Synopsis
When Sky first started it had quite a line up. The New Price is Right with Central personality Bob Warman, Sale of the Century (with the bloke who used to do Miss World) and there was this talent show hosted by Keith 'the boy' Chegwin.
Cheggers was joined by two celeb judges who would judge each of the acts in turn. Some were good, some were awful. Actually, most were awful. As Chegwin pointed out on out-takes show TV Nightmares, 'anybody who wanted to be on it was on it'. The show was recorded "as-live", which often led to hiliarious moments...
Key moments
The escape artist who tried to escape from his own cloth bag. And failed. This sent Keith into stitches, he literally spent the next three or four minutes laughing. And then there was the godawful jugglers, the atrocious singers... let's be honest, it's not Opportunity Knocks, is it?
Judge James Whale gave a stand-up comic who was also a painter a "1" out of 10, telling him his performance was not funny and then said to get back to painting. He replied saying something along the lines of "that's okay, I don't usually do well at these sort of things anyway". Later, the performer gave Chegwin a framed piece of artwork of the "Sky Star Search" logo, and James Whale a plastic bag to wear on his head.
Theme music
Bill Sharpe
Trivia
Sky Star Search was a permanent fixture on Sky's entertainment channel. Episodes went out every weeknight until July 1990, with a final every four months or so. The last series went out on Sunday evenings.
Feedback