Snackmasters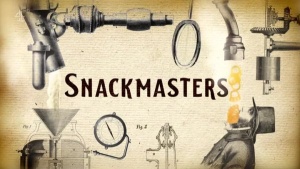 Host
Co-hosts
Broadcast
Optomen for Channel 4, 1 October 2019 to 27 April 2021 (10 episodes in 3 series)
Synopsis
The Channel 4 press release said:
Some of the country's top chefs have an extraordinary challenge - to work out the secret recipes behind Britain's best-loved snacks.
In each episode, two chefs will battle it out to see who can create the most perfect replica of one iconic snack. They'll be taking on the Kit Kat, the Burger King Whopper and a packet of Pickled Onion Monster Munch. On completing their masterpieces, the chefs will bring their replicas to the very factories that mass-produce them, to be judged by the assembly-line workers and bosses behind the real thing.
Each week, the chefs' culinary technical skills will be put to the test as they attempt to reverse engineer the snack, with the product's published list of ingredients as their only clue. Meanwhile comedian Jayde Adams will go behind the scenes in these enormous factories to reveal the real processes that produce millions of the nation's favourite treats.
If you can help us to expand this entry, please provide as much information as possible, using the feedback form below.
Inventor
Eliana Capitani
Trivia
Although it wasn't mentioned in the press release quoted above, the episode on Snickers was evidently meant to air as part of the first series, since clips from it appear in the original opening montage. It eventually aired a year and a half later as the final episode of series three - and the final episode overall. The second and third series (aside from the Snickers episode) share an opening montage containing shots from both series - though in the circumstances it would have been fairly obvious that they were a single production batch anyway, since those six episodes must have been completed during the short window between Series 1 and the Covid-19 pandemic.
It's fair to say that some chefs struggled more than others - serial Great British Menu sourpuss Daniel Clifford only won his second episode against Claude Bosi after Bosi gave up and served actual Shreddies, admitting his deception only after having served them.
Web links
See also
Feedback