Snakes and Ladders
Host
Broadcast
Southern (not networked), 22 September 1958 to 1960
Synopsis
Southern TV's first game show production was a quiz involving a giant snakes and ladders board. It didn't make much impact.
If you can help us to expand this entry, please provide as much information as possible, using the feedback form below.
Trivia
Southern opted out of Keep It in the Family to air this instead.
Pictures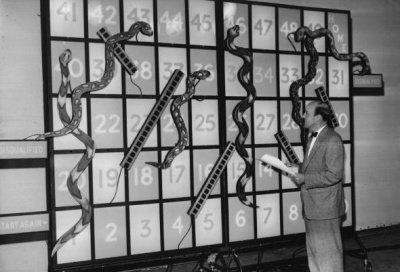 Producer Bill Perry checks the board ahead of the first show.
Feedback