Someone's Going to be a Millionaire
Host
Broadcast
Virgin Radio, 1999
Ginger Productions for Channel 4, November to December 1999 (as part of TFI Friday)
Synopsis
An unashamed spoiler against ITV's Who Wants to be a Millionaire?, which at the time this aired had yet to produce a million-pound payout. In the run-up to the final, viewers could qualify by answering two out of three questions live on air. They would get a choice of £1000 or entry into the final. The finalists were then whittled down by a series of multiple-choice questions.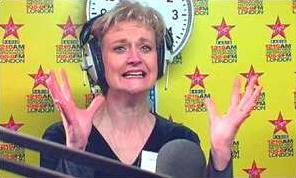 Britain's first quiz millionaire: Clare Barwick
The game was first played on Chris Evans' Virgin Radio breakfast show and proved so popular that he decided to do it on telly as well. Clare Barwick took the top prize in the radio version on 17 December 1999, thus becoming the UK's first quiz millionaire. Ian Woodley became the first television quiz millionaire on TFI Friday seven days later.
Key moments
After Ian Woodley won the million, Chris Evans asked him if the win was going to change his life. Woodley replied that no, he was planning on remaining unemployed. He's now a professional poker player, and has been seen since on many televised tournaments.
Inventor
Chris Evans
Trivia
The final question in the radio version was: Which of these two writers was really a woman: George Eliot or TS Eliot?
The final question in the TV version was: In the film American Pie, what was the pie made from: cherries or apples?
The original plan was for both the television and radio finals to take place on Christmas Eve. However, the last radio audience survey of the year finished a week earlier, and Evans wanted to include the radio final as a means to increase his station's ratings.
Feedback