Steve Jones (1)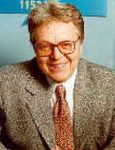 Biography
In the 1960s, he began a musical career as the bassist for skiffle king Lonnie Donegan. Thereafter he formed an unlikely-sounding group by the name of Hunt, Lunt & Cunningham. He was talent spotted while plugging his own records at Radio 1 and became a DJ there by accident. Despite never getting a permanent show there, he had successful stints on Radio 2, Radio Clyde and LBC.
His voice can be heard over many awards ceremonies, particularly the Comedy Awards.
Trivia
Not to be confused with the Sex Pistols guitarist, nor indeed with the Welsh TV host.
Web links
Feedback