Sweat the Small Stuff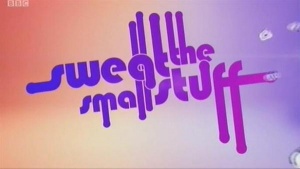 Synopsis
Celebrity panellists find a way to solve life's little problems. The basic thesis is that there's no need to sweat about the trivial difficulties in life, and most of them are small problems.
To demonstrate this idea, the team captains are joined by two others - usually a comedian and an entertainment person - and they aim to show that all problems can be laughed at. The process is codified into some rounds. Regular challenges include:
The Quiff of Grimmy: Someone has been stopped on the street, and invited to answer an embarrassing question honestly, by taking an oath on The Quiff of Grimmy (a wig that looks like Nick Grimshaw's hair. The team is to predict whether their answer to the yes-no question.
The Challenges: A video round, where the two team captains complete embarrassing dares and challenges.
The Sweatbox: Someone from the audience goes into a wooden box, explains their problem, and the teams give them advice.
Points are awarded, scores are kept, a winner is declared, the interest is in the discussion and in the good-natured laughter. Some commentators found the tone dangerously close to laughing at the problems, rather than laughing with. Others suggested the programme was a bland copy of Celebrity Juice and a bit inessential.
Trivia
Shows are usually recorded on Friday for transmission on the following Tuesday.
Episodes last for 30 minutes. A 45-minute version, Sweat the Small Stuff: Extra Sweaty was shown during series 1, but disappeared a couple of episodes into series 2.
The series takes its name from Don't Sweat the Small Stuff... and It's All Small Stuff, a 1998 self-help book by Richard Carlson.
Web links
See also
Feedback