Take on the Twisters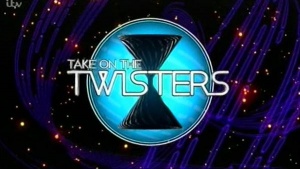 Host
Broadcast
12 Yard for ITV, 22 July to 30 August 2013 (30 episodes in 1 series)
Synopsis
A quick-fire quiz involving eight giant sand-timers.
Apparently, it works like this: One player plays against the clock, there are six timers of various lengths, a correct answer upends a timer. Whichever timers are still running at the end of time earn money. Best player of four plays the final with eight timers, and the money's hidden behind one of them.
If you can help us to expand this entry, please provide as much information as possible, using the feedback form below.
Inventor
Josephine Brassey, Liz Gaskell, Chris Greenwood and John Lomax
Theme music
Will Slater
Trivia
The show went out in the 5pm slot as a summer replacement for The Chase in 2013.
Voted the Worst New Show in this site's Poll of 2013… but voted, without irony, Format of the Year by international television website C21.
Web links
See also
Feedback