Telly Quiz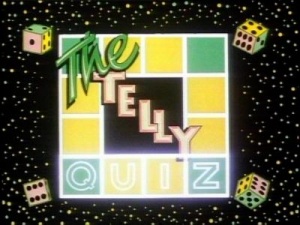 Host
Aiden J. Harvey (non-broadcast pilot)
Jerry Stevens
Co-hosts
Announcer: David Stevens
Broadcast
BBC2, 24 December 1984 to 2 January 1985 (8 episodes in 1 series)
Synopsis
This bizarre quiz featured three teams, each of which started with 28 points and had to get to zero. The number of points "scored" depended on whether they chose and correctly answered an easy, medium or hard question.
They could refer to the "Vox Pop Jury" (three bleary-eyed people dragged out of the audience) for half points. The trouble was the panel was often more useless than the contestants! Every time a question was answered correctly, a very annoying jingle would play as the scoreboard changed.
Trivia
Recorded at BBC Pebble Mill studios in Birmingham.
Winners received a television and a sweatshirt saying "I beat the Telly Quiz".
Radio Times, and therefore BBC Genome, listed a couple of episodes as having more than three teams (one with four, one with five), but we believe this to be a transcription error by an RT staffer up against a deadline to type up Christmas listings back in 1984 since the "excess" teams are all already listed in other episodes.
Feedback