Tellystack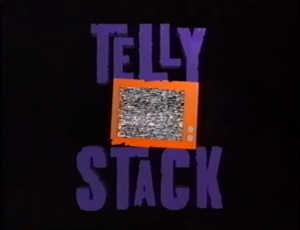 Host
Co-hosts
Announcer: Peter Dickson
Broadcast
Zenith North for UK Gold, 22 July 1996 to 1997
Synopsis
Obscure television-based quiz show from the Mesolithic era of multichannel television, presented by Mr Ubiquity, Paul Ross.
It started with the three contestants answering a question on the buzzer to a clip shown, sitting in lovely big armchairs that you might well watch telly on at home. All the clips related to programmes shown on UK Gold. At the end of this round, the person with the lowest points was eliminated.
Paul Ross had a chat with a celebrity guest (on the Michael Fish/Mervyn Hayes/Isla St. Clair axis) or, failing that, Charlie Catchpole. Then there was a quick chat with the punters about what they liked to watch on TV.
The next round consisted for a giant screen made up of nine televisions. For each question the contestants got right, a screen would reveal a part of a picture of a celebrity and you also amassed more points. At the end of this the winning scorer went through to the final to try and win the star prize.
The end game consisted of answering questions on various subjects like comedy, sport and quiz shows. For each one correct you lit up a television screen on a giant stack of televisions (Tellystack, you see?). If you lit the very top TV, you'd win.
Inventor
Steve Pinhay, he was also the producer
Theme music
Paul Riordan and Simon Stirling
Trivia
The star prize was a golden television.
Videos

A full episode from 1996.
Feedback