That's My Jam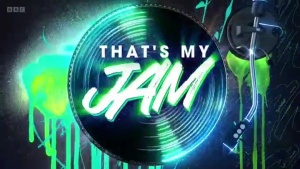 Host
Broadcast
Monkey and Universal Television Alternative for BBC One, 17 December 2022 to 4 February 2023 (8 episodes in 1 series)
Synopsis
The UK's loudest game show. Two teams of celebrities compete in a series of musical challenges.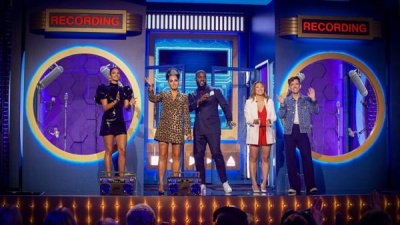 Stars of the opening episode: Alesha Dixon, Michelle Visage, host Mo Gilligan, Jenna Ushkowitz, and Kevin McHale.
The first round is always the same, "Wheel of Impossible Karaoke". Each celebrity has their own challenge – perform a song with their voice altered, or in a completely different style. Or they might be asked to sing gibberish lyrics to a popular tune, or move between microphones that alter their voices in different ways. By the end of this round, every competitor has had their moment in the spotlight, a chance to perform solo, a chance to impress with their singing abilities.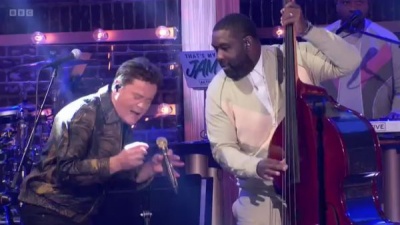 Donny Osmond milks his moment in the spotlight. And that's why he's been popular for half a century.
"Launch the Mike" comes next. There's a massive contraption in the middle of the floor, with a microphone for each singer in the middle. The band starts to play a popular song: when the stars think they know what it is, they are to stamp on a foot buzzer (a la Run the Risk) and launch their mike into the air. Catch the mike, say what the song is, and win a point.
"Take On Mo" is a chance for the host to show off his rapping tendencies. The backing music from a familiar song is played in an unfamiliar style. Mo raps the lyric over the top. Our celebrities are meant to rush to a Golden Mike, and join in when Mo gives the signal.
"The Vinyl Countdown" asks the team to describe musical acts who fit into a particular category without actually naming them or any of their hits. Like on Lightning, whoever is holding the record when time runs out is the loser.
"Disco Charades" is very much like Give Us a Clue, mime the names of famous songs.
"Slay It, Don't Spray It" is the final round. Each team's in an isolation booth, and are to complete the lyric to a song that suddenly stops. Get it wrong, they'll be sprayed with water coming out of the microphones in the booth. Get it right, the other team gets sprayed.
Although points are awarded throughout the show, only "Slay It, Don't Spray It" counts to who wins the show.
The winners get golden "Doomboxes", the losers get wet.
Viewer reaction was mixed-to-negative: initial ratings were OK, but That's My Jam lost lots of viewers when it went up against The Masked Singer.
Key moments
Mo pussyfooting around the number of points each game awarded, which is grating enough, but he frequently carries on after he's already said it.
Trivia
Shot in Los Angeles, which explains a lot.
CPL Productions made an unbroadcast pilot episode in 2021, the full series went to Will MacDonald's Monkey Productions.
Web links
See also
Feedback