The Almost Impossible Gameshow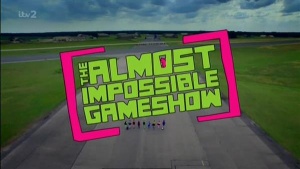 Host
Voiceover: The Rubberbandits (Dave Chambers and Bob McGlynn)
Broadcast
Initial (part of Endemol Shine Group) for ITV2, 1 October 2015 to 11 May 2016 (12 episodes in 2 series)
Synopsis
Contestants are tasked with completing straightforward but difficult challenges, with an inconsequential trophy on offer for those that succeed.
Each player has five challenges to complete and is allowed 50 failures over those five challenges. The challenges are designed to be difficult, almost impossible, such as shake baked goods off one's body in a few seconds. Fail any challenge fifteen times? Move on.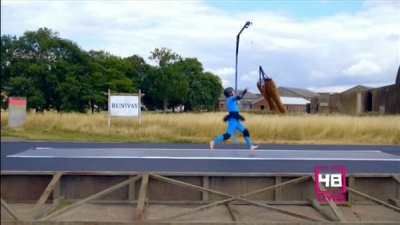 Or put on trousers while on a moving conveyor belt.
Key moments
The very pleasant pre-sequencer background music used in the series; we heard a number of records from as far back as the 1940s. Though we do wish the commentators hadn't taken their attitudes towards women from that era…
The, er, rather explicit introductions some of the contestants give themselves.
Catchphrases
It is very difficult to hear what the referees are saying to the contestant under the commentary. We think this is what they're saying:
"Pass!/Fail!" - shouted by the anonymous referees after a successful/unsuccessful attempt at a game.
"Game/challenge failed" - shouted if a contestant had expended a game's fifteen lives.
"Game over" - shouted if a contestant expands all fifty of their lives.
"Please refrain from damaging the equipment" - usually after the "Dizzy Hurdle" round.
Theme music
The subtitles for the theme tune change from episode to episode, but we think these are the lyrics:
It's not a gameshow it's a way of life,
Don't think about your children, forget about your wife
You're a business boy, chasing your dreams
By dressing up in costumes and falling into streams
It's not impossible
The Almost Impossible Gameshow
Trivia
Wonder how this got recommissioned? The answer's simple: it wasn't. Both series were actually recorded back to back, at RAF Bentwaters in Suffolk, which had previously overseen X-Fire and Space Cadets. ITV2 rather gave the game away when they repeated the series in 2020 and billed the series two episodes as series 1, episodes 7-12…
First-run broadcasts had their first fifteen minutes, and only their first fifteen minutes, bleeped due to a nonsense section of the OFCOM broadcasting code (1.6) which demanded that the "transition to more adult material must not be unduly abrupt at the watershed".
Future RuPaul's Drag Race UK contestant Scarlett Harlett was a contestant on the show.
Web links
See also
Weaver's Week started a review, but flounced off in a huff.
Feedback