The Boss is Coming to Dinner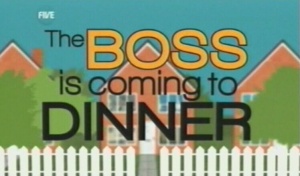 Host
Voiceover: Robert Llewellyn
Broadcast
RDF Television for Five, 2 August to 10 September 2010 (25 episodes in 1 series)
Synopsis
Taking place over five days, each of the first four days sees two job candidates invite their potential future employer into their own homes, where they serve them an evening dinner which they have cooked themselves. Over the meal, the potential employer questions the candidate to find out more about them, much like a conventional interview. Once the potential employer has been entertained by both candidates, they choose one of them to progress to the Friday final. The next three days play out in the same fashion, resulting in four candidates to take part in the Friday final.
In this final, the four successful daily candidates now travel to their potential boss's house, where they all complete a task. Basing their judgement on how the candidates performed in this task, the potential employer eliminates two of them. The remaining two candidates then have evening dinner with the boss, accompanied by more questioning of course, before the boss makes their decision on who to hire.
Trivia
The programme was jointly commissioned with Discovery Real Time who aired the series after Channel 5.
A localised version of the programme was produced by the Nine Network in Australia. However due to poor ratings it was pulled after just two episodes, leaving a number of episodes unaired.
See also
Feedback