The Complaints Department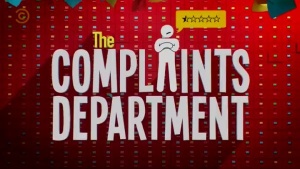 Host
Broadcast
Monkey for Comedy Central, 13 September to 18 October 2021 (6 episodes in 1 series)
Synopsis
"We celebrate the great British pastime of kicking off about absolutely anything," said host Jason Manford in his introduction. The usual arrangements: two teams of two comedians, some you might know, some you almost certainly won't.
Round one, "What's the point", show a picture of someone with a grump, and try and work out their problem. Failing that, try and work out the problem they're complaining about.
After the break, "Petition impossible", work out how many people signed an unlikely online petition. Did more folk put their name to "ITV should bring back Duel", or "Channel 4 should bring back The Crystal Maze"?
After another commercial break, "Top Grumps": compare two related items, and work out which leads in a particular category. For instance, which is the best motorway service station?
Then there's "Famous and Fuming", celebrities who have made a complaint, or been on the receiving end of someone else's gripe. Why, for instance, did Nick Knowles indulge in a 40-tweet complaint a few years ago?
"The Last Word" is the final round, a missing words test in the style of Have I Got News for You. A winning team is declared - points have been awarded for giving the correct answer, and also for impressing Jason with something funny and/or passionate.
The Complaints Department passed our six-laugh test, there's enough to chortle over to be a comedy. Jason Manford is a strong host, the panel are skilled raconteurs, and the result is some properly enjoyable moments. Very few of them relate directly to the questions Jason asks, his prompts serve as a way for comedians to riff and be funny.
Theme music
Sitting Duck Music & Media
Trivia
Voiceover artists include Fisayo Akinade, Harriet Carmichael, and Chris Overton.
Web links
See also
Feedback