The Great History Quiz
Host
Co-hosts
Lucy Worsley, Dan Snow (team captains)
Broadcast
BBC Two, 24 December 2015
Synopsis
The BBC Press Office was laconic in its description:
Two teams of historians answer questions on all aspects of Tudor life.
We may argue the point on it covering "all aspects" of Tudor life, since the focus was almost exclusively on the major personalities of the era rather than everyday life; even a round on medieval medicine focused on the ailments suffered by Henry VIII and Elizabeth I. But even if its central concept was a bit oversold, the show proved both entertaining and informative.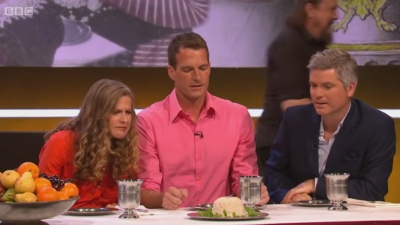 Anna Whitelock, Dan Snow and Jonathan Foyle are apprehensive about a Tudor dessert...
The first round involved identifying potraits of prominent Tudors and answering a supplementary question about them. The other rounds were largely prop-oriented: an identify-the-artefact game in the manner of Animal, Vegetable, Mineral, a round on Tudor banquets with dishes prepared by a food historian from Hampton Court, and the aforementioned medicine round which involved identifying which ailments a selection of plants were thought to cure. There was also a round on Tudor music with guest musicians performing songs and the teams asked to explain what they were singing about, and inevitably a final quickfire buzzer round.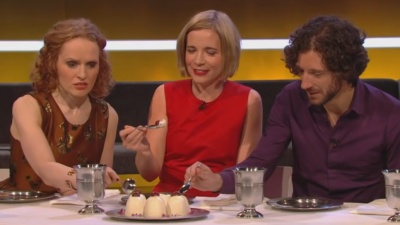 ...but Kate Williams, Lucy Worsley and Greg Jenner get stuck right in.
In the end, quite a traditional panel game with much bonhomie rather than the outright comedy focus of QI or Insert Name Here. The pilot filled its one-hour slot agreeably without obvious padding, though it's doubtful whether it could have sustained a series at that length, or retained its character in a 30-minute slot - and it looks like the BBC's commisioners thought so too, as it never got another outing.
Feedback