The Lyrics Game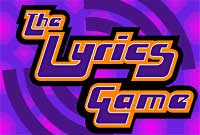 Host
Mike Doyle
Co-hosts
Team captains: Jim Sheridan (all shows), Mal Pope and Andy Morgan (rotation)
Broadcast
Presentable for BBC One Wales, 8 August to 5 September 2003
Synopsis
Musical panel game involving a straight rip-off of an RTE format, though probably a pointless waste of time given the host and teams spent three quarters of the show singing! BBC Wales left it to run its course before the axe fell.
To be completed
Inventor
Andy Ruane and Philip Kampff. The original Irish version, The Lyrics Board, has been running on RTE since the late 1980s.
Trivia
Mike Doyle (singer/comedian/actor) was the 1988 overall winner of Bob Says...Opportunity Knocks.
During the original broadcasts on BBC1 Wales, the episodes lasted 40 minutes. By the time the series was repeated on digital channel BBC 2W, they had been drastically re-edited down to 30 minutes because of scheduling.
Web links
Feedback