The Munch Box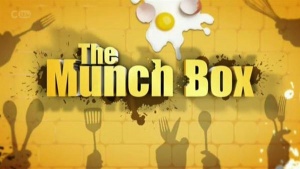 Host
Layla Anna-Lee (all series)
Ben Ebbrell (2013)
Joe Hurd (2014)
Broadcast
Cactus for CITV, 5 October 2013 to 13 December 2014 (24 episodes in 2 series)
Synopsis
Young chefs learn about food and demonstrate their cooking skills in a boys-versus-girls challenge.
The young cooks make three dishes - a signature dish of their own, one of two dishes chosen by the producers, and the professional chef's signature dish. They're assisted by host Layla Anna-Lee and by professional chef (and Richard Osman lookalike) Ben Ebbrell.
Their work is judged by a professional chef and two young epicureans, none of them know who made what dish. Each dish is scored by the box as a whole, and the higher overall mark wins some exclusive aprons.
Each cooking round is preceded by a physical challenge, the winner of which will secure an advantage in that round. The show also includes a filmed report about food and cookery, and there's a question-and-answer session with the guest chef. It's lightly educational while always remaining entertaining and competitive.
Pictures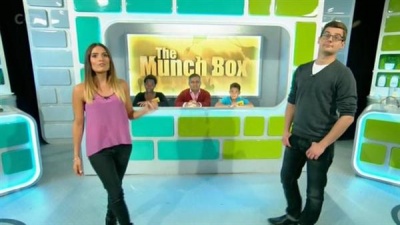 Layla and Ben keep the munchies in their box.
Feedback