The Other Boat Race
Host
Sarah Cawood and Joe Mace with Sir Steve Redgrave
Broadcast
BBC Three/One, 22 to 27 March 2004 (6 episodes in 1 series)
Synopsis
Two celebrity teams composed of Oxford and Cambridge University graduates train for, and compete in, a re-creation of the annual Universities Boat Race. It was a poignant time for the BBC, because it was the 150th year of the competition and they were just about to lose broadcasting rights to ITV.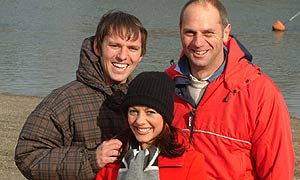 Lovely weather for ducks
A well made programme where the underdogs won despite all the odds.
Trivia
Oxford team:
Jonathan Aitken, ex Tory MP
Richard Herring, stand-up comic
Helen Atkinson Wood, actress and comedian
Anna Botting, Sky newsreader
Toby Young, journalist
Emma Kennedy, TV presenter
They are coached by gold rowing medallists Tim Foster and Martin Cross.
Cambridge team:
Stephanie Cook, Olympic Pentathlete gold medallist
Edward Stourton, Radio 4 'Today' presenter
Jan Ravens, impressionist
Kit Hesketh-Harvey, writer and performer
Grub Smith, journalist
Konnie Huq, Blue Peter presenter
They are coached by Olympic rowing medallists Gillian Lindsay and Greg Searle.
Feedback