The Totally Senseless Game Show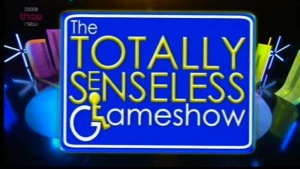 Host
Martin Dougan
Broadcast
Roughcut Television for BBC Three, 11 August 2015
Synopsis
Celebrities investigate what it's like to live with impaired senses.
Host Martin Dougan asks celebs to identify objects without sight (in "Smell It, Flick It, Lick It"). They were asked to run "The Drunk Grand National" while wearing vision-altering goggles. And identify what their team-mate was singing by reading their lips in "Paraoke".
Footage from games was augmented by sketches set backstage, in which Martin deals with the embarrassment of producers at Martin's wheelchair. These were comedy of hyperbole, designed to induce cringes.
We came away thinking that there was more comedy sketch than game, and that the games themselves didn't bear the programme. As a one-off, the show got across its central message: disabled people are not objects of pity.
Trivia
Recorded in early 2014, but not transmitted until summer 2015, when BBC3 ran a "Defying the Label" season on disibility.
In 2013, ITV Studios made pilot editions of "Totally Senseless", a game show where people would do simple things without the sense that most helped, and a cash prize for success. The show was never commissioned for a series. We believe that ITV's pilot was unrelated to this broadcast programme.
Web links
BBC programme page and article from host Martin Dougan
See also
Feedback