Today's the Day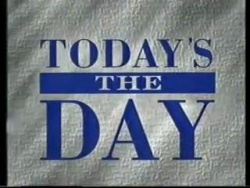 Host
Andrew Rawnsley (1993)
Martyn Lewis (1993-99)
Co-hosts
Announcer: Penny Smith
Broadcast
Mentorn Films and BBC North for BBC2, 12 July 1993 to 12 March 1999 (753 episodes)
Synopsis
This show had two incarnations. The first one was hosted by a political pundit, but he was replaced by newsreader Martyn Lewis when the quiz went daily in November 1993. It became a very popular programme indeed.
Today's the Day was a basic general knowledge/history quiz, with all the questions and answers having a reference to the day the show was being broadcast. Two teams of two (of different generations) competed each day, with the top prize for the series two round-the-world tickets. This prize was mentioned at least twice in each programme.
There were two parts of the show. The first part was when two new teams battled it out. Rounds included 'Stop the Clip', a question was asked with the clues in footage, and the quicker they buzzed in and stopped the piece of film, the more points they scored if they answered correctly. There was a TV round where teams were asked questions on classic television on that day, and the obligatory quickfire buzzer round.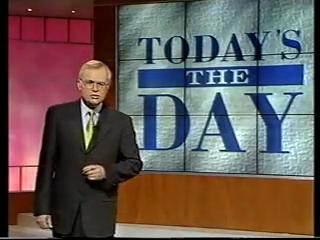 Host Martyn Lewis in front of the Today's the Day video wall
The second half of the show saw the winners of the first half meet the champions of the day before. This was their chance to get on the Leaderboard for a chance at the Grand Final. The first round in the final was the Video Wall, where eight different clips were worth varying amount of points, the teams taking alternate picks. If they got an answer wrong it was thrown over to the other side. The second round was the One-Minute Quick-Fire round, with ten points per answer. Daily winners came back on the next programme (unless they'd won five programmes, in which case they were retired so that someone else could win), and everyone who took part won a paper that was printed on the day that they were born.
The highest scores in a daily final came back at the end of the series to compete in a knock-out competition, to determine who won the trip for two around the world. The two halves of the programme were separated by a viewers' competition, for a book or cash prize and entry into a draw at the end of the series to win a trip for two around the world.
This was a quiz-by-numbers, but it was pleasant and quite cozy and did what it did quite well. Channel 4 attempted to capture the same nostalgia zeitgeist with the markedly less successful Backdate.
Today's the Day had a spin-off on BBC Radio 2, where Martyn Lewis played news and entertainment clips from the archives, and talked to some of the people featured.
Merchandise
Book:
by Martyn Lewis
Web links
See also
Videos

The 1997 Christmas Special.
Feedback