Tom Baker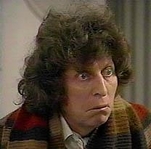 Biography
Liverpudlian lad Thomas Stewart Baker is one of Britain's most endearing actors. His roles are many and varied, but the highlights must be the fourth incarnation of Doctor Who (complete with multicoloured scarf, which he apparently frequently tripped over), the pre-Roger McGough days of The Book Tower, the brave but pessimistic marsh-wiggle Puddleglum in 'The Silver Chair' (part of 'The Chronicles of Narnia' series) and - ugh - Donald McDonald in Monarch of the Glen. Latterly earned a living as the voiceover artiste for Little Britain. Good byeeee!
Trivia
He is frequently taken off by the impressionist Jon Culshaw on Radio 4's Dead Ringers.
His autobiography is called Who on Earth is Tom Baker? You, you daft eejit.
Web links
Feedback