Tonight's the Night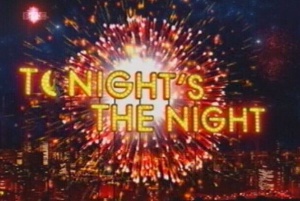 Host
Co-hosts
Voiceover:
Mitch Johnson (2009)
Steve McKenna (2010)
Broadcast
Barrowman Barker Productions for BBC One, 18 April 2009 to 3 December 2011 (22 episodes in 3 series)
Synopsis
We had the greatest of difficulty working out whether Tonight's the Night was an actual game show, and we had to wait until we'd seen an edition to make a definitive judgement.
The bulk of the show - something of a cross between Jim'll Fix It and Surprise Surprise - involves John Barrowman surprising people by letting them perform on stage with their heroes. Well, so long as their heroes are suitable for 6pm on a Saturday night, so expect the likes of McFly and stage musicals.
Three game show elements bring the show into our view. There's a star challenge, in which Barrowman competes against another famous person in some sort of dare. Can John keep his football off the ground for longer than a professional soccer player? Both of the people in the challenge were competing for someone in the audience and whoever won got a prize for their audience member. There's a test for a member of the public - if they can appear with some professional performers and not look like a complete buffoon, they'll win a holiday somewhere nice. And throughout the series was a workplace challenge, in which people who work together do a song-and-dance routine, with the audience voting for whom they wanted to progress to the next show, and a winner emerging in the series finale. In the final, a group of plumbers were voted the winners over a group of waitresses.
It's the lightest of light-entertainment shows: if it were any less weighty, the show would be in grave danger of floating away. As undemanding feelgood fare, the show would like to be seen as the inheritor to the song-and-dance bits of The Generation Game in its imperial phase. It's not quite there yet, but because it's actually entertaining, it's a better entertainment than Barrowman's last show in this slot, The Kids Are All Right.
Theme music
Dobs Vye
Web links
See also
Feedback