Top Town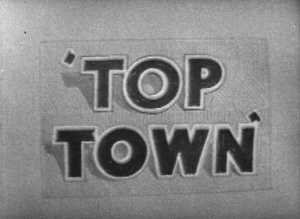 Host
Roy Bradford (radio series)
Neal Arden
Peter West (1956)
David Jacobs (Top Town Tournament)
Stuart Hall (1987)
Broadcast
BBC Light Programme, 12 June to 28 August 1951
BBC-tv, 4 February 1954 to 10 December 1956
As Top Town Tournament: BBC-tv, 22 January 1959 to 23 June 1960
BBC2 North West, 2 October to 20 November 1987 (8 episodes)
Synopsis
Talent competition with a It's a Knockout-style twist of two towns competing against each other, the whole caboodle culminating in a final to crown the UK's "Top Town". How proud they must have been. In the early series, a panel of judges simply announced the winning town at the end, but later on there was a proper scoring system in which each act received points out of five, the town with the higher cumulative total winning.
The programme appears to have been briefly revived in 1987 for some reason. Maybe to give Stuart Hall something to laugh about?
Trivia
Claire Sweeney made one of her first television appearances on the revivial show, singing Somewhere Over The Rainbow with very bad hair.
Web links
Newspaper article about a 1956 show
See also
Feedback