Tycoon

Host
Joe Duttine (voiceover)
Kate Thornton (live final host)
Co-hosts
Broadcast
Peter Jones TV for ITV1, 20 June to 23 July 2007 (5 episodes in 1 series)
Synopsis
A bunch of bright young things go to work in "Tycoon Tower" (don't get excited, it's just a dull brick office building where they've stuck some etched glass on the front entrance and hung a banner on the side) for ten weeks in order to prove that their idea for making squillions of pounds is the best. Peter Jones provides start-up capital and expertise and can invest a limited amount of extra money at his own discretion. Six businesses start; those (if any) that are still afloat at the end go to a viewers' vote with the winner carrying off all the profits.
So take your pick. Is this...
a) A mix between The Apprentice and Dragons' Den,
b) Innovation Nation with a post-Apprentice spin,
c) Make Me a Million with everyone sharing the same mentor,
d) A watered-down version of Jones' own American Inventor, or
e) All of the above?
And no, we didn't mean for that to rhyme, it just turned out that way. Anyway, the answer is surely e). It does hang together reasonably well, but somewhere along the line it seems to have lost a bit of "bite". In particular, it rather lacks the cutthroat element of other business-related hits, something that will either be its saving or its downfall. Indeed, the camaraderie between contestants is something of a distinguishing feature, and while in a way it's quite cheering, we're left thinking that if these people are meant to be in competition, it might help if they showed it a bit more.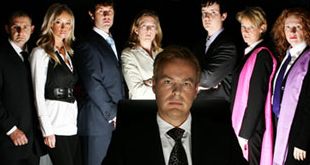 Ooooh, scary.
Joe Duttine's voiceover is similarly low-key, if a bit 'thin', steering clear of the forced gravitas and audibly raised eyebrows of other narrators. There's one running gag: one of the contestants originally introduced herself as Elizabeth Make Things Happen Hackford (her real name, thanks to a deed poll) so Duttine refers to her as such throughout in a completely deadpan fashion. It could be argued that Duttine sticks too closely to a neutral tone, and that a mass-audience ITV show like this would benefit from a voiceover with a little more personality.
The format has bigger problems than that, though. Here's one: in episode one, two would-be tycoons come in with an idea for bright pink garden tools to be marketed under the name "Girlie Gardening". They're proud of the idea and don't want to change it. The next time we see them, they've started selling limited edition sweatshirts branded "Sod". Whoa! Where did that come from? There's a whole creative process here that we're not privy to, and that in a show like this, we should be privy to.
And then there's the enigma that is Peter Jones himself. Simultaneously the most interesting and most infuriating thing about the show, there's no doubt that the guy knows - and means - business, but he's a tricky fellow to get a handle on. Neither as hard-nosed as Sralan Sugar, nor as "of-the-people" as, say, Richard Branson, he works well as one of five disparate personalities on Dragons' Den but just doesn't have the strong singular presence that would make this series work.
The show brought one innovation to the table: viewers who entered a competition on the show's website could be gifted stakes totalling 25% in the winning company - which sounds rather less impressive when you realise that the prize is to be shared between 2000 people, meaning each one will win just a 0.0125% stake in the company. It's also not quite the first time something like this has been done, since back in 2000 The E-millionaire Show gifted 1% of the winning companies' shares to a single lucky viewer. Jones told the press, "If I were a viewer I would really want to win a part of the company that I voted for." Whether this would further dilute Peter Jones's presence was never fully explored.
You have to wonder what ITV thought they were getting when they commissioned this, because for all the hype, it's really nothing more than a mildly diverting (but far from exciting) documentary series with a vote at the end. It's a BBC2 or Channel 4 series that was never going to appeal to ITV audiences, and with a share of just 9% for the first episode it looks likely to go down as one of the channel's biggest ever flops. It doesn't deserve that, but then again we wouldn't want to talk it up too much either because it could have been done so much better, made so much more exciting, and just generally presented more coherently... and it wasn't. And harsh as it is, the blame for that has to be laid squarely with one man. This telly business isn't as easy as it looks, is it, Peter?
Inventor
Champion
Iain Morgan with his toy helicopter import business. A decade later, we find Bladez Toyz has gone from strength to strength, and is a trusted name for quality radio-controlled toys.
Theme music
Paul Farrer
Trivia
The debut show got terrible ratings - just 2m (a 9% share) turned up for the 9pm slot on Tuesdays. It was moved to 10pm on Mondays after just two episodes, shortened to 30 minutes, and the series cut from six episodes to five. The grand final got just 1.3m (a 6% share).
Peter Jones would later become the face of "Tycoon In Schools", a contest run by the Westminster government's Department for Business. Established in 2012, it proved much more durable than the series.
Web links
At the time, they publicised http://www.itv.com/tycoon/, a re-direct to tycoon.com. Fair play to Peter Jones, when we checked in 2018 he still had a page about this series.
Feedback