Ultimate Sports Day
Host
Co-hosts
Mentors:
Scotland - Sinead Kerr
England - Dean Macey
Northern Ireland - Barry McGuigan
Wales - Christian Malcolm
Greg Whyte (sports advisor)
The Chaser (as himself)
Broadcast
The Foundation Scotland for BBC Two and CBBC, 28 January to 31 March 2012 (11 episodes in 1 series)
Synopsis
Eighty young athletes are brought to the Ravenscraig sports centre, where they're judged on a number of standard athletic tasks. Divided by sex, age (under-14 and under-16), and nation, the competitors are reduced to 32. Further challenges follow, such as pulling in a canoe and using it to reach a pontoon as quickly as possible. The contenders also receive coaching from name athletes, with Kelly Sotherton and Philips Idowu amongst those visiting.
The eventual aim is to be the one male and one female athlete from each age band to reach a spectacular final stage, in which competitors took part in tests of athletic skill and ability. They could, for instance, need to shimmy up a plexiglass cuboid tube and walk along a bar at the top. Or they might be required to throw basketballs and kick footballs into an appropriate target, while dodging a revolving pole contraption.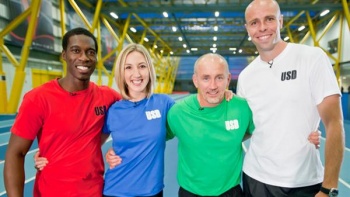 The mentors and selectors: Christian Malcolm, Sinead Kerr, Barry McGuigan, Dean Macey.
Each contest included Hang Time, with the objective being to hang from a large metal hoop rising above the arena; and athletes competed against The Chaser in a flat sprint, aiming to complete 150m in less time than it took the masked man to run 175m. The shows ended with a Ring Relay, involving most of the apparatus used earlier in the show, and some that wasn't, such as climbing telegraph poles.
Ultimate Sports Day was structured as a nations competition, with hosts Scotland up against Wales and Northern Ireland, and all of them hoping to beat England. The show traced its heritage back to various sports contests - the opening weeks concentrated on raw athletic ability a la Body Heat. The competition episodes were more the spectacle of Gladiators than the kids having a lark ethos of We are the Champions, with a nod to Top Gear's mysterious character The Stig.
Inventor
Jonathan Marks and MTC (UK) Ltd
Theme music
Paul Farrer
Champions
England (Allard Newell, Emily Attfield, Leo Clark, Shanice Norton)
Web links
Feedback