Weaver's Week 2010-06-06
Last week | Weaver's Week Index | Next week
"Josh is 80/1 in the betting. Good luck to him – he'll need it!" — Davina McCall on The Million Pound Drop Live last Saturday night.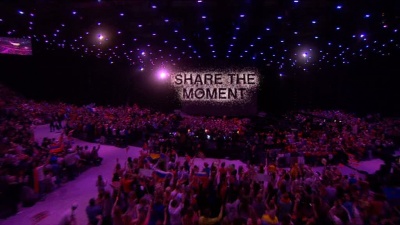 The final

Let's begin by posing a question we usually leave to the end. If the UK vote had been distributed according to sales on Sunday at a well-known interweb music retailer, this is how the points would have gone.

Close but not quite right: Moldova, Justin Lee Collins, Armenia, and Ukraine (5pts from the official vote).

0 pt in 12th – Cyprus
0 pt in 11th – Azerbaijan
1 pt – Romania (8pts)
2 pts – Albania (1pt)
3 pts – "Fairytale", as in last year's winner
4 pts – Denmark (6pts)
5 pts – Turkey (10pts)
6 pts – Iceland
7 pts – Greece (12pts)
8 pts – Belgium
10 pts – France (2pts)
12 pts – The Interval Act

So, er, according to the Grate British Public, the best thing about Saturday's contest was Madcon teaching the people of Europe how to wave their hands in the air as though they did not care. Is "Glow" the new "Riverdance"? Was the contest really as bad as all that? The winner, did it sound like something from twenty years ago?

25th – United Kingdom – 10 pts

Er, no. The BBC sent a song from twenty years ago, and it came stone last. We were expecting glitter to come out of the set; we got Josh Dubovie coming out of a little box. Credit where it's due, Josh turned in a faultless performance, but he cannot be expected to make a Big Fun B-side – complete with deliberately off-key backing vocals – sound like the most vital thing on the planet. Even the greatest, most experienced salesmen in the world would have difficulty making this sow's ear look like something other than a bit of offal. Four voting panels sent something to the UK, the best being a four-pointer from Ireland. Even the Grate British Public didn't like the song, ranking it below at least sixteen other Eurovision songs, three of them not even competing.

The BBC is the problem here. It needs to buck its ideas up, needs to be brutal. Take the song away from the Light Entertainment empire, give it to the alternative people of 6 Music, or the young people of Radio 1. The most edgy person involved with the UK presentation this year was Scott Mills, who read out the UK's votes. He's perhaps the squarest of Radio 1's presenters, and isn't cool enough for Bamzooki, but he's like liquid nitrogen when compared to Pete Waterman. For goodness' sake, the BBC could have had Katie Melua, but couldn't reach an agreement. Sending Katie Melua would have ended the contest on a high note, with 12 points from the late-voting Georgia, instead of which...

24th – Belarus – 18

...the top mark went here, and relegated the UK into last place. Belarus's gimmick was to have butterfly wings come out of the back of their costume. Butterfly wings for a song called "Butterflies". Get it? Oh, please yourselves. We were surprised at just how poorly this song did, it was no great shakes but we thought it would be more voter-friendly than it was.

23rd – Ireland – 25

It's not just the UK who have found themselves behind the times this year. Niamh Cavanagh's song has been derided as "passe", "old-fashioned", and "a bit like 'My lovely horse', only not as good". Ireland has managed to qualify from the semis to the final, something they've not done since 2006. Seven from the UK was top mark, though the song was conspicuous by its absence from the sales listing.

22nd – Moldova – 27

The one with the spinning violinist, apparently. We remember little of the performance, so we'll burble on about the opening titles, which had a journey from Lugano (venue for the first song contest in 1956) to Oslo, via such landmarks as Sandy Shaw, Dana Domestic, Abba, Millstreet, Dana International, Istanbul, and Moscow. Then there were good wishes from webcams dotted all around Europe, before Alexander Rybak (remember him?) hoped that the best song would win, and performed the best song from last year. By no account would Moldova win, a mere ten from Romania was the first surprise of the voting.

21st – Cyprus – 27

Gathered together from around Europe, invited to "Share the moment", Europe had many emotions during this evening. We sobered up for a moment when the Greek spokesman came on air, and it was their Senior Announcer, the sort only to be deployed in the event of World Catastrophe. Had Athens been burned down by protesters? Had their finance minister resigned and left the national books in the hands of a kid in on work experience? Were they going to give twelve points to someone other than Cyprus? No, no, and (to a little joshing in the hall) no. No-one else gave more than four, and the UK – from where Jon Wintergreen hails – rewarded him with a big fat nothing.

20th – Norway – 35

"We love having you here, but once is enough" was the word from NRK, whose song was a functional belter complete with a Eurostandard key change. Seven from Estonia was as good as it got; Ireland sent two points. We should mention the moment NRK allowed for recovery after Josh's performance; for the few countries who don't take a commercial break, it was a chat with BBC television commentator Graham Norton, which we found was rather spoiled for BBC viewers by a sarcastic voiceover from the television commentator, commenting on his own performance.

19th – Iceland – 41

18th – Portugal – 43

Disco stomp from Iceland, and Portugal won the little competition involving women in toilet-roll holders, beating Ireland and Malta. Iceland got eight from Belgium and just three from Denmark, Portugal's best was eight from France, and a handful of sixes. The scoreboard? As has quickly become traditional, it rearranged itself into top-to-bottom order, and while not quite as clear as last year's, was far better than many we've suffered.

17th – Bosnia & Herzegovina – 51

Second place in the Eurovision Axe Contest, handily beating Macedonia but behind Turkey. Bosnia benefitted from being one of only two bits of former Yugoslavia still in, led by 12 from Serbia and 10 from Croatia. Only France doesn't have a record of voting for BiH, and discounting "friendly" voting leaves the country two off the bottom.

16th – Albania – 62

Functional, serviceable Europop from Albania, rewarded with 12 from Macedonia and 10 from Greece, and one from the UK. Unusually, this entry received more points from Old Eurovision (37 from those countries taking part before 1992) than New Eurovision (25 points). This wasn't the highlight of the show: for our money, it was host Erik walking through the crowd, being handed props appropriate to the speech he was rattling off. A simple trick, but when it works, it really works.

15th – Spain – 68

Spain turned the opposite trick, with 50 points coming from the New Eurovision, and Portugal's 12 the only big award from the west. This statistical quirk isn't why we'll remember the Spanish entry, but the fact that the original performance was disturbed by a man appearing on stage, acting for all the world as though he was one of the quite bizarre backing dancers, and only after about some seconds being quietly ushered backstage and dumped in a Norwegian wood. Such was the commotion that Jesse Matador's backing singer missed his cue to leap on stage at the second chorus, and the song was re-staged after the others had completed their turns. The extra exposure might have helped; the extra security in the interval led to fans being manhandled back, which looks bad.

14th – Israel – 71

Very little to say about Israel's identikit ballad. Ten from Finland and the Netherlands, eight from Belarus and Slovakia show that where they liked it, they really liked it. Three from the UK panel, and three awards from the Marcel Bezençon panels, winning the Press, Commentators, and Composers' awards. No song's ever won all three awards before.

13th – Serbia – 72

Serbia's entry divided the audience into those who got it (roughly, those of Serbian extraction), and those who didn't. This column didn't get the joke, and will defer to those who did. The 38 points from New Eurovision were entirely gained from the Balkans, including 12 from Bosnia and Herzegovina; ten from Switzerland was not a surprise, ten from France was. They do things differently in France...

12th – France – 82

...like sending a decent song. "Allez ola olé" isn't the most difficult sentiment, it's a bouncy calypso/reggae number, and chock-full of summertime promise and sunny goodness. It received something from 24 countries, more than either of the two songs immediately above, but never scored higher than third in Finland and Greece. Six from Ireland, two from the UK. Readers will have further chances to enjoy "Allez ola olé", as it's the official song of the French entry at the forthcoming football world cup. It's good to see that Ireland doesn't carry a grudge.

11th – Russia – 90

10th – Ukraine – 108

The battle of the emos resolved in Ukraine's favour. Russia had the gimmick – the singer's "photograph" of his love turned out to be a pen-and-ink drawing. Ukraine had the raw emotion and – by quite some distance – the better song, a haunting melody that might give nightmares. It seems to be a song that people either get and love, or completely don't understand – Graham Norton clearly falls into the latter category. Russia got the 12 from Belarus and five other tens; Ukraine's best mark was 10 from Azerbaijan and Belarus; the UK also donated five. Russia, in particular, divided the continent, picking up the vast majority from the New Eurovision nations.

9th – Georgia – 136

Georgia won the sub-contest amongst the New Eurovision countries, picking up more points from the post-1992 entrants than any other of their songs. It was a mean 'n' moody number, less moody than the Russian offering and less mean than the Ukrainian performance. The net result was people were more comfortable voting for this, including in Ireland where they gave it five. Twelves came from Armenia and Lithuania. We note that Georgia received ten points from Russia, which is ten more than travelled in the opposite direction.

8th – Greece – 140

7th – Armenia – 141

There's very little to choose between 9th and 4th in this year's contest, and we suspect that both of these songs owed their high placings to the expat vote. Greece could send "My lovelyos" and score 60 points just for showing up. This year's Greek entry was lots of jumping about but no song as we understand it; top scores from UK, Belgium, Cyprus, and Armenia.

Armenia's entry was an unapologetic appeal for the expat vote, based as it was around the national fruit (the apricot) and mentioning "the mother land" in the chorus. That said, we suspect the Armenian song was more appealing to the casual viewer – it didn't actually make that big a deal about its nationalistic side, and could be enjoyed as a song on its own merits. Twelves from Israel, Russia, and the Netherlands.

6th – Belgium – 143

A guy and a guitar. And that's it. A very simple song gave Belgium their best result in a very long time. Perhaps it lacked a little in presentation, as a few more points would have lifted them to fourth. Germany was the only country to send twelve points, but six – including Ireland – sent 10 points, making it Europe's consensus second favourite song.

5th – Azerbaijan – 145

This one absolutely split the continent: a third of the voting countries put it in their top four, another third gave it absolutely nothing. The broadcasters had spent a huge amount on the talent behind this song, dragging in songwriters for Michael Jackson and choreographers for Beyonce Knowles. They'd promoting this song around the continent, spammed the heck out of blogs, and their effort had some success. Top marks from Bulgaria, Malta, Turkey, and Ukraine, but only a handful of lower marks. It all suggests the song was popular with the televoters and not the juries.

4th – Denmark – 149

When this battling ballad – complete with skateboards and a walk down the path to the dais – received twelve points from Romania, our flabber was well-and-truly gasted, as Romania are meant to begin the voting with top marks for Moldova. The second vote, from Ireland, also gave the Danes 12, and we thought it was 2000 all over again, and wondered what Copenhagen's like at this time of year. However, the rest of the continent didn't quite agree – Iceland, Poland, and Slovenia sent twelves, but many votes – including the UK's 6 – just floated past. Top of the also-rans, and we have a nasty feeling that Simon Cowell's going to get his hands on this and spoil it for everyone.

3rd – Romania – 162

This uptempo disco stomper was Old Eurovision's second favourite song, even though it did absolutely nothing for this column. Moldova were the only panel to send top marks, four sent 10 points, the UK donated eight, and Ireland 7.

2nd – Turkey – 170

Turkey sent their MTV award-winning metal band Magma, a clear and easy winner in the Eurovision Axe Contest, and also securing top marks in the Eurovision Flashy Lights Contest. We think it works better on record than on the screen, which slightly misses the point, and it's not as catchy as "Hard rock hallelujah" anyways. Top marks from Azerbaijan, Croatia, and France; 10 from the UK and 1 from Ireland suggests there's a certain level of expat voting at work here. Not that we're objecting to a distant second place.

1st – Germany – 246

We did warn you that the winner would come from Russia, Armenia, Portugal, or Germany. Russia and Portugal were dark horses, Armenia we thought could combine the casual and expat votes, and Germany had sent a proper contemporary pop song. It's got all the boxes ticked: catchy chorus, a bit of depth so that it bears hearing twice, a song that anyone can like, and no gimmicks in the presentation – the only quirk is the singer's vocal style. The tune was ever-so-slightly familiar – people have heard "Fast car" and "Walking in Memphis" and "Puppet on a string" somewhere in there, we were thinking of the theme from Channel 4's cricket coverage. The lyric made it a giddy love song, a universal theme tackled in an unusual way.

Most importantly, Germany ticked the box labelled "coherent performance", making the three minutes entertaining. Perhaps they benefitted from a late place in the draw, perhaps they benefitted from taking the song on tour before the contest. They certainly benefitted from having a singer who was familiar with the song – Lena Meyer-Landrutt had won NDR's talent contest Under Star Für Oslo, where the format finds both a singer and a song. The BBC's equivalent programme finds a singer and is snookered if there's no song to go with him, as has been the case for two of the last three years.

Nine countries sent top marks, Ireland gave eight, the UK a mere four. Top of the list in both Old and New Eurovision, and a salutory lesson in how to do well. Send a good song, one that could slip easily into European radio playlists. "Satellite" could do that, and did do that – long before the Eurovision contest, it was riding high on the airwaves of central Europe. It's the most immediately commercial winner in a long time, probably since "Fly on the wings of love" ten years ago.

Of course, to slip a song easily onto the continent's airwaves, you've got to know what's big in Europe, and the BBC has a long-standing blind spot about European pop music. The corporation absolutely refuses to examine the European pop scene on radio or television, and we must assume that this is a deliberate policy by the corporation. That is responsible for a large chunk of the BBC's failure at Eurovision: the broadcaster buries its head in the sand, doesn't engage with Europe, and then is surprised when it finds itself stuffed by the Germans, trailing behind Spain, giving Ireland the consolation of "at least we're ahead of the Brits", and beaten by some butterflies.

Turning to the reaction, and Shay Healy, who wrote "What's another year" in 1980, said, "I think Ireland is behind the times and we've been caught out by fashion. We need to rethink our model and come up with something more contemporary. " Other Irish people have been less helpful: Louis Walsh has offered John And Edward!!!, suggesting that they're as good as Lena Meyer-Landrutt. How do we break this to Mr. Walsh? Josh Dubovie has more talent than John And Edward!!! put together.

We suspect that Lena must be doing something right, as notorious arts curmudgeon Norman Lebrecht thinks she's vapid rubbish, and makes comparisons to "Germany's Singing Nun". In a point of fact, the Singing Nun was from Belgium, a word that adequately describes the rest of Mr. Lebrecht's contribution.

However, this column's award for Not Getting It (open only to articles we've seen) goes to Mary Dejevsky, who wrote in The Independent newspaper,

"[Lena] would not have had a chance, had the European viewing public and the national juries from Moscow to Paris and back again considered it unacceptable to vote for Germany for other reasons. Remarkably, Germany attracted votes from across the continent, including from countries whose historical experience might well have dictated otherwise. [..]

"Saturday night's result showed that in most of today's Europe, Germany is seen either in a benign light, or as a country with clout that is worth cultivating. Not so, Britain. What our sad last place laid bare was not only the inadequacies of our song, but a hard-headed calculation by most of our neighbours that, as a country, an ally, even as an economy perhaps, we don't matter that much. We're not loved, we're not needed, and we're not feared."

What's wrong with this analysis? It assumes that people are voting for the country, and not for the song. Sometimes this happens: we've noted that Azerbaijan, Turkey, and Greece traditionally pick up votes from their expats overseas, and that Armenia's entry was calculated to appeal to that country's diaspora. The five panels who didn't vote for Germany were Armenia, Belarus, Georgia, Israel, and Moldova; of these, only Armenia and Israel haven't once voted for a German entry since 2004, and Armenia's not competed in every contest.

But the bulk of the voting, the entirety of the jury contribution and the majority of the televoting, came from people who were voting for their favourite song and favourite performance. Germany won because they were represented by the best song on the night. The UK came last because it was represented by the worst song on the night. Don't read anything more into the result, because the evidence isn't there to support the claim. Occam's Razor applies.

Did friendly voting have a significant impact on the result? Not really: Ireland qualified thanks to 10 from the UK, but Sweden's total was boosted by 12 from Norway. Perhaps Malta was diddled out of a place by Bosnia and Herzegovina's many friends, but we can't say that that would have altered the overall result one iota.

Though they didn't make it out of the semi, or perhaps because they didn't make it out of the semi, Poland provided the Eurostandard results across the week, followed by Spain and Serbia. The most out-of-line results came from Macedonia, with Georgia and Armenia close behind. We know that one country used a jury as their televoting failed on Tuesday, and suspect it's Macedonia.

Right back at the start of the article, we gave the sales chart for the UK. Similar charts are available for much of Western Europe, and we can draw up a listing for seventeen countries. They're all Old Eurovision, and some of them – Italy, Austria, Luxembourg – don't bother participating any more. We also have sales data from Australia, who see Eurovision the following day.

Our completely unscientific survey shows that Germany won the Western Europe sales vote, ahead of The Interval Act, Belgium, Greece, Denmark, and Turkey. Last year's winning song, "Fairytale", finished 15th, and the top-placed semi-finalist was Sweden in 17th. Switzerland placed 31st on our utterly unscientific ranking, but that's still higher than the UK, who were mentioned in dispatches by the Norwegians and absolutely no-one else.

Our slightly more scientific piece of research is into the national patterns shown by the voting. These are worked out by taking the average vote from the previous five contests, working out what the likely result was if the countries voted for each other at random, and marking a link if there's a significant flow of votes from country A to B, and from B to A. The UK votes for Greece and Turkey, those countries don't vote for the UK, so there's no link. The UK votes for Ireland, and Ireland votes for the UK, so there is a link.

The combined jury-and-televote hasn't given markedly different results from those previously established, when all the points were given from telephone calls. Macedonia still gets support from its neighbours and approximately no-one else. Countries of the former Yugoslavia appreciate each other, countries of the former Soviet Union tend to either love or hate each other. Countries of Scandinavia and the Baltic have their patterns, though we note that Estonia and Latvia are no longer linked. This would be because neither country has sent particularly good songs in the recent past, and their opportunities to vote for each other have been limited.

Europe forms into two main blocks: the Baltic block of Nordic countries; and the Balkan-Soviet block, made up of Yugoslavia, the USSR, and countries in that area. The two blocks are linked by a connection between Azerbaijan and Norway. Don't read a tremendous amount into this: the Azeris gave lots of points to "Fairytale", and the continent rather enjoyed Norway's soulful ballad from two years ago. That's just enough to establish a link in one direction, and the diaspora vote gives enough the other way. As ever, there's a diagram on the website, aimed at those who might want to win the prediction contest.

And speaking of prediction contests, interweb data-prediction site Kaggle held a contest asking people to predict how each country would vote at Eurovision (http://kaggle.com/Eurovision2010?viewtype=summary). Every country, every vote. Second place was taken by Derek Gatherer, representing the BBC's "More or Less" programme, and devisor of the method we've used to bring out the links above. The contest was won by Jure Žbontar, a computer scientist from Slovenia. You know, the country that sent a folk-rock-polka fusion. Not so good at the songs, but great at the prediction.
This Week And Next
Very little room for other matters, so here are the ratings for the week to 23 May, a particularly hot weekend. Not that this stopped Britain's Got Talent from pulling 10.4m in its Sunday evening slot, plus another 300,000 on ITV-HD. Over the Rainbow profited from the lack of opposition on Saturday, with 6.95m seeing the final won by Danielle Hope. Have I Got News For You takes the bronze medal, 5.9m saw the BBC1 show, 2m the Saturday version. Millionaire had its highest audience of the year, 3.35m saw Tuesday's part-networked edition. Eggheads led the minor channels with 2.1m on Monday, Great British Menu also broke 2m. Channel 4's Sunday night staple Come Dine With me was tonked by Simon Cowell, and 465,000 tuned in on C4+1.
Britain's Got More Talent (1.465m) and Come Dine With Me (755,000) were the top two on the digital tier, which isn't unusual. Celebrity Juice in third place? That's a slight surprise, 575,000 saw Thursday's edition. Dave had half-a-million for QI XL on Monday night, and a year-best 350,000 for Would I Lie to You? Living's experimental Four 21st Birthday Parties wasn't so well-attended, 190,000 is barely half the audience for the parent show. A year's best for Ballroom With the B-List on UKTV Watch (165,000), and Challenge may as well change its name to The Who Wants To Be A Millionaire Channel, as Tarrant monopolises the top ten.
Scrapheap Challenge is back this week, with some chariot-racing (C4, 5.25 Sunday). Top reality show of the week is Fferm Ffactor (S4C, 8.25 Thursday), the competitive farming contest. There's a new series of Britain's Got Talent US (ITV2, Thursday), especially for everyone in the Piers Morgan fan club. Big Brother's also back, taking over Channel 4 one last time – there are supporting programmes on Sunday and Tuesday, and the contest begins on Wednesday. 8 Out of 10 Cats is back (C4, 10pm Friday), and Countdown has rather taken us by surprise, beginning its Finals Week this Thursday.
To have Weaver's Week emailed to you on publication day, receive our exclusive TV roundup of the game shows in the week ahead, and chat to other ukgameshows.com readers, sign up to our Yahoo! Group.