Weaver's Week 2011-05-22
Last week | Weaver's Week Index | Next week

ITV wins! ITV wins!
The Final, 14 May 2011
And so it's come to this. A continent of people, all wondering what on earth these Germans are doing with their country version of last year's winner, and asking them, please, get on with it.
Two myths were killed stone dead in last Saturday's presentation of the Eurovision Song Contest. First, the myth that Germans have no sense of humour. They do, it's just a bit different from the Anglo-Saxon variety. And second, the conception that Germans are hyper-efficient, and run like clockwork. Not so: how else can we explain the fact that they dragged on until 12.30 local time, a good twenty minutes past the scheduled close.
Bottom of the list, and bottom by quite some distance, came the Swiss entry. We're not quite sure why this happened, probably something to do with the fact that it was on immediately after the commercial break, and was somewhat overshadowed by the surrounding entries. Ten points from the UK system made up more than half the total of 19 points.
Estonia finished in 24th place, with a corking 44 points. Usually, that's enough to be about ten places higher. It's clear Getter has star quality, and the staging was memorable, with coloured crayon figures around a cutout of a city. The song was in its own way, too, and we're slightly at a loss to understand why this one lost out so badly. Possibly a draw effect, coming late in a run of pop songs. Possibly that it's trying too hard to copy "Satellite", with the quirky verse and bangin' chorus. Or possibly that we got it on about the fourth listen, and that's two listens too late. Seven points from Finland, Lithuania, and Ireland, and to be honest it deserved better.
The last of the Big Five was Spain: 50 points and 23rd place. Their song sounded like a Spanish song, one that couldn't really have come from anywhere else, with a flamenco beat and yelping vocals. Top marks from France and Portugal weren't a surprise, nothing above five points from anyone else.
Hungary's power pop finished 22nd with 53 points, including a maximum from Finland. The Finns finished in 21st, with 57; their twelve came from Norway. Early draws for both songs seem to have hurt them, but we also note that the UK's marks from the semi-final – 10 and 6, respectively – came down to 0.
Iceland came 20th, 61 points included the obligatory douze from Denmark. Except it didn't; Denmark only sent six, and the top mark came from Hungary. Iceland's friends were mostly from the Old Eurovision countries – Bosnia the only other "newcomer" to send anything.
Lithuania's slice of musical theatre took top marks from Poland and Georgia, and 10 from the expats in Ireland. It lifted the entry to 63 points. One ahead was Austria, whose love song had top marks from Germany and a huge number of lower marks – eighteen countries sent something to the song in 18th place.
There's always a song that starts the voting strongly and then fades down the scoreboard. Romania's was this year's entry, briefly grazing the top three before finishing in 17th place with 77 points. Top marks from Moldova was entirely predictable, top from Italy perhaps wasn't. The UK showed its love for the Durham singer by sending nothing. Never mind, back to his side-project: recording a spoken version of the works of Pink Floyd.
Russia also scored 77 points, and claim 16th place on having 17 votes, rather than Romania's 14. The story here is that they didn't top any national poll, or come second anywhere – eight from Ukraine, Israel, and Armenia were as good as it got. Axel scored 17 from the Old Eurovision entrants, but some traditional friends didn't send much – just four from Serbia, five from Belarus, and nothing from Latvia. Could it be that people have been voting on the quality of the song and performance, and not on the flag? Or was young Exal upstaged by The Scene-Stealing Door?
The bookies have had a good couple of years, spotting the winning potential of "Satellite" last year, and seeing the viability of "Fairytale" as spelled out in twenty-foot high flashing neon letters. This year, their pre-contest favourite failed miserably, finishing in 15th place. France sent Amaury Vassili, a tenor singer performing in Corsican. It's a bold move, Corsican isn't as obviously a beautiful language as French, the vocals felt nervy, he had difficulty finding his key, and the staging was less inspired than many other competitors. Top marks from Belgium was expected; twelve from Greece and ten from Spain perhaps weren't. The traditional friends in Portugal sent two points.
Serbia can go back through the time tunnel, please, 85 points for their retro-kitsch included tens from Slovenia and Bosnia and Herzegovina. Defining "central Europe" is difficult, but we reckon Serbia picked up about half their votes from outside their local area.
The scores were all over the place this year, and it's difficult to see where the mid-table break occurs. We're going to put it here, below Slovenia's 13th place with 96 points. Which one was Slovenia? Oh, the one with the metal bra that wasn't metal. Twelves from Bosnia and Herzegovina, and from Croatia, as the Slovenes picked up about two-thirds of their points from central Europe. Under the One Semi rule, as used between 2004 and 2007, Slovenia would be the first country straight into the grand final.
Moldova's 97 points included a 12 from Romania; the UK was one of three countries to send eight points. This column didn't see the attraction of men wearing giant traffic cones as hats and a woman unicycling, but it's clear that lots of others did.
Qualifying on merit was the UK entry. "I can" by Blue finished in 11th place, with precisely 100 points. It included a twelve from Bulgaria, ten from Italy, and a non-inevitable six from Ireland. It's a sign of how poorly the BBC has treated this contest that eleventh place, and positive votes from 25 countries (the fourth-highest total), is amongst its best results in ages. Since Blue first released a single in June 2001, the UK has come last or joint-last on three occasions, and only twice troubled the left-hand side of the scoreboard.
If we're being frank, Blue's performance wasn't as good as it could have been – the singer missed some of the difficult high notes in the first chorus, and the vocals never quite recovered. The staging – individual video screens of each person – almost seemed to be pictures of different people, and not the singers themselves. But to be fair, it was an adequate performance of a decent – if slightly outdated – song, and received the reward it deserved. It shows what the BBC can do if they send something with a modicum of modernity: a two-decade-old song finished last, a one-decade-old song is midtable, so something contemporary? In time, my dear, in time.
Top ten finish for Lena, "Taken by a stranger" made 107 points, with a top score of 10 from Austria. Unlike last year's song, this year's entry was a suspenseful, almost fearful entry. And it had some game show connections – the backing dancers were dressed in the zentai suits borrowed from Big Brother, and the song might almost have been based on the vibraphone "tension" music from the UK's Deal or No Deal.
As ever, some commentators have complained that Eurovision is just a bunch of former Eastern bloc countries voting for each other. With Georgia, they may almost have had a point. 15 countries sent a total of 110 marks to the Tbilisi squad. No fewer than 72 of those points came from former USSR countries, Latvia the only one to send nothing. Is this friendly and neighbourly voting? Perhaps. Could it be voting for the only remaining goth-rock band in the contest? That's also an explanation, and the evidence before us isn't enough to rule either out.
And now we reach Ireland. 119 points gave Jedward eighth place, with douze points from Denmark, Sweden, and (shock!) the UK. We found this a difficult one to review: the song works far better without the visuals, because the backing on the video screen was way too busy and distracted attention from the performers on stage. It's a shame: Ireland had a sharply-defined image, and may have blown a chance to sell themselves in the east. Only 24 of these points came from former communist countries, making this a clear case of former Western bloc countries voting for each other.
Ireland did win one of the minor prizes: the Artistic Award, as voted by the various national commentators in Dusseldorf. The Press Award was won by Paradise Oskar for Finland, and the Composers' Award by the French entry.
Greece came seventh, 120 points included the night's most remarkable development, 12 points from Cyprus. The same procedure as every year. More interestingly, the UK sent the grand non-total of nothing in the final. In the semi, which the Greeks won, the UK sent 8 points, compared to 1 to Turkey. Had the votes been reversed, the Turks would have missed out on the final by just one point. In the real world, that fate also befell Armenia and Malta. Semi-final two was also tight, Moldova qualified by one point ahead of Belgium, with Bulgaria and Slovakia six points off the pace. Shay Byrne will be pleased to hear that Ireland sent five to Slovakia, that's one for each listener to his radio commentary.
All hail European popular song royalty! Dino Merlin is massively popular in the former Yugoslavia, and picked up 12 points from Serbia, Macedonia (Former Yugoslav Republic of), and Slovenia. And, thanks to the post-war diaspora, from Switzerland and Austria. No country scored as many as five douze points marks. This was a divisive song: eight of the 16 votes were in the national top three, and there wasn't much in the small money.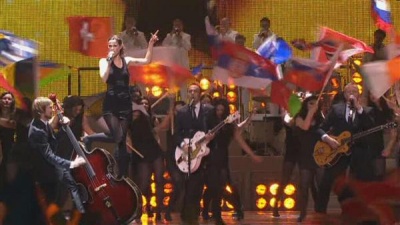 The opening act was the Eurovision Lena contest, won again by Germany. The interval act was forgettable.
Top of the also-rans, and fifth place with 134 points, came A Friend in London for Denmark. Top score from Iceland, the same procedure as every year. The big money from Ireland and the Netherlands perhaps was a genuine surprise. Why did A Friend in London succeed above A Boyband From London? We have a theory that a really successful Eurovision song needs to be a bit fragile, to show some vulnerability. Blue's entry didn't, it was self-confident and cocky and wasn't going to admit to having any doubt at all whatsoever. Denmark's entry, and the three pop songs in higher places, were positive but a little bit scared, with minor keys in evidence.
John Waters wrote in the Irish Times on Friday about how there were significant structural differences between the rock 'n' roll-influenced traditions of western Europe, and the pop music of eastern Europe. To summarise his points, the west prefers music in major keys and 4/4 time, the east likes syncopated beats and minor keys. Though very unusual time signatures don't tend to find success in the Eurovision, it's certain that this year's is the first winning entry written primarily in a major key since "Everybody" won ten years ago.
Waters noted further that the winning entries in the Eurovision Song Contest are "songs that sound dated and songs that go over our heads." We reckon this year's winner is a perfect example: the overall sound could come straight out of those 1976 editions of "Top of the Pops" going out on BBC4, but the "oh-oh-ohs" are typical of the eastern love of minor-key riffs.
Perhaps this helps to explain why Ireland (and the UK) has had such a poor record in the contest recently: the viewers of Europe are, quite literally, singing to a different tune. The domestic audience likes something, the middle-European likes something else entirely. Only if the BBC finds a really, really good song can it hope to win.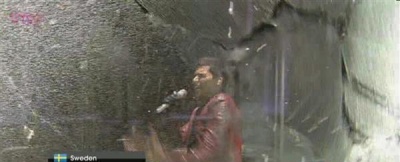 Phillip Schofield never has to put up with people breaking his cube.
But we get ahead of ourselves. Fourth place for Ukraine, Mika Newton, and her amazing sand sculptures. Their total of 159 points included top marks from Slovakia, Armenia, and Azerbaijan, and five other top three votes. The structured voting was intended to add suspense and surprise to the result, but any sensible voting system would have ensured Ukraine remained at or near the top throughout.
The same's true for Sweden, whose third place (185 points) included only two 12 points, from Estonia and Israel. Good work for a chap of Palestinian and Lebanese descent. Erik Saade had an interesting idea: could he win the song contest from within ... The Cube? No, was the answer, as he broke the fourth wall of the 19 Keys set in another memorable bit of staging. Sweden led at the halfway mark, but this looked a bit artificial, most of their traditional friends had already sent their money.
If there was one deliberate effort to skew the voting, it was for Italy. Raphael Gualazzi presented a modern jazz piece, which remained on 0 points for the first half-dozen juries, but then rose quickly. Top marks from Spain, Latvia, Albania, and (in a remarkable shock) San Marino. If we remember rightly, about 1% of entries to the Eurosong are any sort of jazz, and most of those end up towards the bottom of the semi-final scoreboard. We're pleased to see something a bit different rise up so high. We're very pleased to see Italy return, and this result confirms that every Italian entry in the past 18 years has finished in the top three. Both of them. The good news is that Raphael has seen his stock rise, bringing himself to the attention of people who wouldn't normally be aware of his work.
There was a British winner at the Eurovision. "Running scared" is co-performed by a bloke from Baku and a lady who now lives in north London, and written by Stefan Örn (Iceland), Sandra Bjurman (Sweden), and Iain Farquharson (UK). All of which means they're representing, er, Azerbaijan. It's a soft rock ballad, a song that wouldn't be out of place on Light FM all across Europe. That's except for the British franchise, who won't play it because it doesn't have Robbie Williams or Rihanna on it. We digress. Top marks from Turkey, Russia, and Malta, five countries sent ten points, and no fewer than 10 gave 8 marks. But 12 of the voting nations didn't rank Azerbaijan's entry in their top ten, with the UK amongst those missing the most popular song. The voting story here was to remain at or around the top, and slowly pull away in the second half of the voting.
All of this international transfer action means that IIctimai television is the winning broadcaster, and has first dibs on hosting next year's contest. This column knows that Azerbaijan can afford it, and even though the Eurovision Dance Contest 2009 was cancelled from underneath them, we're certain that they'll do a good job. We fervently hope that the authorities are prepared to allow a delegation from Armenia into the country to compete, and that the Armenian delegation is able to accept that invitation.
The whole point of Eurovision is to bring the peoples of the continent together, in a show of international unity. That might be "cor, that 'Fairytale' is brilliant", it might be "Good grief, this Jan Delay chap is a bit rubbish. Bring back the Irish people trying to put out a cigarette." It's not a forum to continue age-old spats and exacerbate cultural differences. In the unlikely event that the Azeris can't find it in their hearts to welcome the Armenians, we will have to ask what Naples is like at this time of year.
International charts of singles sales has enabled us to look for the songs that people are actually buying, and not just phoning in to like. Purchasers in Ireland elevated A Friend in London to a national top ten single, and Eric Saade, Blue, Ell/Nikki, Getter Jaani, and Lena all have top 50 singles this week. We're even able to review the purchasing habits from non-competing countries including Luxembourg and Australia.
Translating sales into points shows that Azerbaijan won, ahead of Sweden and Ireland. Denmark came fourth, and Germany pipped the UK to fifth place by one point, so no change there. Italy slipped to sixth, and Estonia were the big winners by placing seventh, clearly "Rockefeller street" appealed more to the download generation than it did to the televoters.
If we're to believe the UK populace, only the single most popular song in each country counts, and only the song with the most national votes wins. That "first past the post" ballot was won by Bosnia-Herzegovina, with a majority of 1 over Italy. The "alternative vote", as rejected in the recent UK plebiscite, would have returned Azerbaijan's entry. But we can do better election geekery.
This column had absolutely nothing to do on Monday while waiting for the plumber to turn up. Seriously, we were so bored that we ran the semi-finals as a Single Transferable Vote election to return 10 countries to the final. Thursday's second semi ended up with absolutely no change, the top ten according to the EBU's formula were also the top ten from the STV system. Ireland's vote starts with Denmark, and transfers at 1/2 to second preference Estonia. On Tuesday, the UK vote helps to elect Lithuania in the first round, then transfers at 1/22 to second preference Hungary. Elsewhere, Croatia and Turkey both took two 12-point votes, and that would qualify them in the STV election. They're eventually joined in the final by Albania, and at the expense of Russia, Georgia, and Hungary.
Would the contest have been better for these changes? We can posit that Croatia might have taken some votes from Bosnia and Serbia, and that Turkey would have turned in a respectable result from their diaspora, though not necessarily a top-half finish. On the other hand, Hungary are only back after a couple of years away, and need all the encouragement they can get to keep participating. Russia falling out of the final is unprecedented: since returning to the contest in 2000, Russia has never missed the final. We're not sure it would have been better, it would certainly have been different.
All of which brings us to the annual survey of which countries are voting for other countries. Our methodology is to work out the average mark awarded by A to B over the last five years, and see if this is more than would occur by chance – that's at least 4-and-a-third marks, rising further if one of the countries hasn't taken part each year. We record a link if there's a higher-than-chance flow of marks in each direction. It's an analysis pioneered by Derek Gatherer, to whom we again tip our hat.
This year's survey comes with a significant caveat: there's been a methodology change halfway through the survey period. From 2007 to the 2009 semi-finals, national points were awarded solely on the basis of televoting. From the 2009 final onwards, points were awarded from televoting and from the opinion of an expert jury. These methods each account for half of the marks available.
The main thing we note this year is that there's now one massive network covering almost two-thirds of the competing broadcasters. There have been links between the Balkan and ex-Soviet blocs since we first ran this analysis in 2006, there have been links between one or both of these and the Baltic bloc for the past couple of years. For 2011, we find that Ireland and the UK are brought into the network, as Denmark and Ireland are swapping votes.
There are still three major power blocs. In the north, the Nordic Cross of Denmark, Iceland, Norway, and Sweden all vote for each other. In the south, the Balkan Pentagram is formed by Slovenia, Croatia, Serbia, Bosnia and Herzegovina, and Macedonia; all of these countries vote for each other. In the east, there's a USSR Incomplete Pentagram, where Russia, Ukraine, Georgia, Armenia, and Azerbaijan each swap votes, with the exception of the last two. The Balkans link to the USSR via Greece and Turkey, and the USSR to the Nordics by a chain of relationships up the Baltic coast.
Most of the links are geographically proximate, though not all. The pan-European network is completed by Lithuania exchanging votes with Georgia, two nations split by the somewhat larger Russia. Landlocked Hungary now has only one friend in Europe, the coastal Iceland; and France has conspired to get into a vote-exchange programme with its close neighbour Armenia.
We'll do it all again next year, hopefully in Baku.
This Week And Next
Ratings for the week to 8 May, and Britain's Got Fakery was the most-seen game show, 10.2m there. Friday's Have I Got News For You was seen by 4.7m, and Who Dares Wins had 4.2m in the crease of their sofa. The Cube and Sing If You Can both scored just under 4m. Have I Got a Bit More News for You took 2.2m, Great British Menu enjoyed a bank holiday bounce to 2.15m, and both episodes of The Million Pound Drop Live beat 2m viewers. Three digital shows scored more than a million: Celebrity Juice at 1.965m, Britain's Got More Talent on ITV2 had 1.225m, and Talent itself on ITV-HD scored 1.01m. As ever, note that we don't have scores for BBC1-HD.
The week's big new show is Four Rooms (C4, 8pm Tuesday), in which antiques dealers bid on items for sale, but without knowing what other dealers have offered. There are also new runs of Dickinson's Real Deal (ITV, 3pm weekdays), Celebrity Five Go to... (C4, 5pm weekdays), and Fee Fi Fo Yum (BBC1, 4.30 Friday), and the finals of Pop Idle Us (ITV2, 9pm Friday) and Head Chef (TV3, 9pm Friday). So You Think You Can Dance remains in its teatime slot (5.45 next Saturday), but there's no Britain's Got Talent on ITV, thanks to some football. The Million Pound Drop Live and Have I Got News for You both shift to 10pm.
To have Weaver's Week emailed to you on publication day, receive our exclusive TV roundup of the game shows in the week ahead, and chat to other ukgameshows.com readers, sign up to our Yahoo! Group.