Weaver's Week 2014-11-23
Last Week | Weaver's Week Index | Next Week

"Together!"
PBS for EBU, radio broadcast by Radio Six International, 15 November 2014
Good to hear the Fifty-50 Show return this week, with features on the Jeopardy! tournament of champions, The Genius, and a blow-by-blow recap of Schlag den Raab. (There's a six-minute highlights reel, condensed from a six-hour contest. We might just end up reviewing this at some point.) This column looks at another game show unbroadcast in the UK.
Last year, a representative from Malta won something. We're not talking the patronising "pat on the side, at least you tried", we're talking "massive win in a serious international competition". Gaia Cauchi, the performer for PBS, won the Junior Eurovision contest in Kyiv. The winning broadcaster gets first refusal on hosting next year's contest, and leaped at the chance.
PBS has wanted to host a Eurovision song contest for years. You know how some people start planning their wedding when they're five years old? By the time they find a husband, everything is planned in meticulous detail. Right down to how they're to tie the knots in the braid on the horse's mane. That's Malta tonight, they're bursting with pride to host the contest. The broadcast begins with a paper plane flying through the whole island, there's some street dancing, and then the competitors walk on.
Moira Delia is the host, a solo presenter is new for the Junior. The contest began in 2003, and pushed Pop Idle out of its regular slot on the ITV network. The 2004 and 2005 contests went out on ITV2, and then ITV decided that they couldn't be bothered any more. Too many cute songs about summer and sweets. Many other Western nations have also pulled out – state broadcasters from Spain, Denmark, Norway, and Sweden went away. The result is a contest mostly confined to the Eastern part of the continent. We think this is an error, and will explain why.
There's little more Eastern than the opener, BTRC from Belarus. Swirling bazouki, a vocal swooping and soaring like the "Falcon" of the song's title. And Nadezhda Misyakova sings in Belarusian, those are the rules, no more than 25% of the lyric in a foreign tongue (ie English). The staging invoked native Americans, headbands and feathers against a field of corn. We reckon Molly Smitten-Downes should have been this bold six months back, an ethnic number with clear crossover potential. The standard has been set!
BNT of Bulgaria were the pre-contest favourites, and "Planet of the children" is a power ballad in the Balkan heritage: stately and well-produced. A tiny girl stands in the middle of the stage, between two pianos – the pianists have their backs to her. And then she bursts out with a massive vocal. Neither of the performances we've heard so far would be out of place in the senior contest. In last night's jury final, the power went out on Krisia, Hasan and Ibrahim just as they showed the fairytale castle. Doesn't happen tonight.
"Breaking my heart" is the song for SMRTV San Marino. Five girls have been put together in a vocal group, and it appears that The Peppermints are going to be the Morrisons version of Pick 'n' Mix. The chorus goes "You're breaking my heart, you don't understand, you're breaking my heart" before branching off into Italian we don't understand. The vocals are less polished than the other acts, and we recall the sage advice of Cliff Richard: "Harmonies, guys!". A shame: the look was there (five girls in her own colour), they projected a strong personality. And that song is a massive earworm, perfect for the Thunderbugs revival we're due about now.
With the first Wrong Sort of Shiny Warning of the night, Croatia are back! HRT were the inaugural winners in 2003, haven't competed since 2008, and shout "Game over" in this one. Is JESC ready for light techno music? Why the blazes not; it's what the young people listen to, and they aim Junior Eurovision at the competitors' age range, 10-16. A breathy and somewhat pitchy performance from Josie, we could hear her literally running out of puff for the final chorus. Josie is responsible for a spin-off show, the Junior Eurovision Song Contest Disgusting Jelly Bean Challenge. http://www.youtube.com/watch?v=5eEUlECtrWU Ant and Dec, on yer bikes.
We're at the first interval act, a neon light show in total darkness. That's going to work really well on the radio. Because none of the UK broadcasters bother to show the night's big event, we have to listen to the live commentary on the wireless. And by "wireless" we mean "radio over the sub-ethernet", Radio Six International broadcasting from a server farm in Glasgow. Ewan Spence and Glenn Bartlett are doing the commentary. We watched the pictures at our leisure during the week.
CyBC of Cyprus also make a return, they've not appeared since 2009. "The most beautifulday" is performed by Sophia Patsalides, a solo performer with a big flowing frock, the wind machine. She looks like she could be a bridesmaid, the sort who wears colourful trainers. And there's a key change of expectation. Not just any old key change, a key change *in the middle of a note*. Don't try this at home, Sophia is a trained singer. She's performing a number in the dance music style, full of energy and zest, with a breakdown to force the key change. SR would love to have had this. And would have made a better backdrop: a child left alone in a lightning storm is "the most beautiful day"? Must be a subtle joke we don't understand.
Onwards! GPB from Georgia is usually there or thereabouts, and they've sent "Happy day". It's like the international hit "Wrecking ball", all mumbled verse and shouted chorus, turning into a massive stadium anthem towards the end. We're only getting the audio, not the video, but we're assured that there were no large metallic objects involved. (Checks video) No, but there was a pyro curtain, and Lizi Pop came dressed as a loo roll holder. There may have been an attempt at a stagedive, and certainly a "join in with the chanty bit, audience". Lizi has had the time of her life. All the performers have had the time of their life: they've had fun, made friends, and cheered for each others' success.
SVT from Sweden give us "You're not alone", which is a familiar high-energy disco number. Thomas G:son is a familiar name from the spring contests, he only has one song and this is it. The Swedes love Julia Kedhammar's number, we're less enamoured. Cyprus was similar and the song was far better, theirs didn't have a slightly painful key change. Staging goes to Sweden: Julia performs against a cityscape, with backing dancers throwing their arms about. It works with the message of the song, not against it. Wrong Sort of Shiny Warnings for the video clip.
Do you want to build a snowman? NTU of Ukraine are trying their best: dry ice, a fairytale castle backdrop, swirling strings, a song called "Spring will come" in the minor keys of hope. Sympho-Nick have managed to polish this into a gleaming ice tower, the soft glow of a crystal as the animation circles around in search of dawn. On the radio, the vocals from three ice nymphs weren't as good as we hoped, it made a whole lot more sense with the visuals. This is quality stuff, it's a song done properly. A shame they won't bring something just as fab to the May contest.
The next interval act: streetdance and breakdance and a string quartet. This isn't going to work on the radio. Nor are the postcards: young people of Malta doing Stuff: parkour, gymnastics, ballet, galloping on a lovely horse.
Welcome RTVSLO! Hello, Slovenia! Their first ever Junior entry is "Your light", another softer song. It's another power ballad in the Balkan tradition, we reckon stronger than Bulgaria earlier. Ula Lozar stayed in place, swayed a bit, took her hoodie off, and for the climax she's consumed in a ring of fire. "Bring on the Pyro!" shouts radio host Ewan, perhaps confusing this with a Legend in Japan gig.
For their first entry, RTCG from Montenegro invite us to "Be a child for a day". Many of the songs tonight could fit in at the Senior Contest without too much change; this could only be a Junior number. After the opening drizzled in fairydust, the song is straight-ahead power rock with Masa Vujadinovic and Lejla Vuli adding the vocals. And here's why Junior Eurovision is an Eastern contest: song contests are a way of life over there, children perform as young adults. The Western side of the continent gets hung up on "they're growing up so fast" with the spectre of Minipops and Operation YouT00b. If the contest were to lean a little older – 12 to 17 from suggestions at Eurovision Insight – it would be easier to sell to advertisers and to broadcasters. 12-17 would rule the BBC out from ever competing, the Corporation has a policy to not serve this age group.
Montenegro went a bit wobbly in their opening moments, and we suffer a connection drop just before Italy. The first performance from RAI, the sole member of the Power Five competing tonight. Vincenzo Cantiello is the Token Bloke, the one and only male singer on stage tonight. He's performing "Your first great love", a very powerful power ballad in the style of Eros Ramazotti and other great Italian singers you'll never have heard about. The Harry Styles look-a-like gave kisses to the crowd.
Shiny warning for AMPTV's entry "People of the sun". The staging has a maypole and the backing dancers get spat out of a one-armed bandit. And Betty is the best at finding her camera, even better than Simon Webbe. Even on the radio, we can sense that the stage is in bright primary colours, this is obvious and in your face and fun-loving and up for a grand time. People will be dancing to this on the streets of Yerevan tonight. (Checks weather forecast.) Do wrap up.
Interval act number three has a coconut solo. On the radio, it's Ewan Spence explaining why the script has gone out of the window, and he's explaining the way the scores are combined. Unlike the other show, Junior Contest jurors are only asked to rank their top 10 songs, which combine with the top 10 in the televote to form a ranking. There's also a Junior Contest Jury, one child from each country, and this jury takes part in the main voting. The EBU tried to run an online vote, but the website crashed during the Active Voting Window and they didn't make the award.
RTR from Russia appear at song 13, "Dreamer" is a by-the-numbers power ballad. It's performed by the winner of The Voice of Kids of Russia, and in the category of They're Not Disney Princesses, Honest, she ranks just behind Ukraine. There's something not quite right here, the song is skirting around Alisa Kozhikina's best singing register. These notes don't quite have the magic, the build, the charm of "Spring will come". On the other hand, it's top half material.
RTS of Serbia come back after five years out, Emilija Djonin performs "The world in my eyes" at a piano until she rises from the stool and parades down the catwalk. This song would slot into the May contest without any trouble. It's a Balkan ballad in the style that we don't understand or hear in the west, but it follows enough of the tropes (breakdown and key change) that we can keep up with the structure.
Host broadcaster PBS have sent "Diamonds". From a sea of dry ice there's a plinth. Federica Falzon stands on it and belts out some light opera in her mezzo-soprano voice. Worked for Ruth Lorenzo. Judging from the crowd reaction, it worked here. And by "worked" we mean "can someone nip up and check the roof is still fixed?" What's Malta like at this time of year?
"Around" has the difficult task to Follow That! The AVROTROS entry would like to be a theme song on a TMF Kids show in the Netherlands. Catchy and bouncy and with one killer hook "eh-eh-eh, oh-oh-oh, round and around and around". Performer Julia looks like she's just on exchange from a Schneider's Bakery production. The modern sound deserves to be in the top half.
And that's your sixteen! Moira attempts to get the votes in by listening to the children of Europe shouting at their television sets. This isn't going to work, on the radio or anywhere.
During the televoting, we hear "Together", an interlude with lines performed by all the competitors in "Perfect day" style. The executive supervisor for the EBU speaks to Ewan, and he's happy that everyone is taking the contest seriously. Wasn't always the case, contests earlier in the decade were a bit ropey and suffered from poor organisation. Last year, Ukraine said "never mind the revolution, the show will go on." NTU took the show by the scruff of its neck, made sure that they produced top-drawer television, and Malta had something to beat.
The commentators discuss the crowd, how the volume built and built until it reached a crescendo during the Maltese performance. According to Roy Delaney, "worked" meant "did actually cause car alarms to go off". Co-host Glenn Bartlett says his Crowning Moment Of Awesome is the sheer pride that Malta has shown this week. One of the schools on the island has adopted each performer. All the schools have had front row tickets for tonight's show, and have been waving their flags like there's no tomorrow.
The press room voting is in: Bulgaria beat Italy and Malta. On the show, Gaia Cauchi is singing a new song.
Which brings us to the voting. Usual scores, 12, 10, 8 to 1. Sixteen national votes, each delivered by a jury spokesperson who has been flown in to Malta. That involves more children in the show. And the producers don't have to mess about with satellite link-ups. And, because it's Junior Eurovision, everyone gets 12 points for turning up.
The voting began with the Children's Jury, one broadcaster one vote. They preferred RAI over PBS and BTRC (Italy over Malta and Belarus, as the announcement went). Then the national results came in. AMPTV of Armenia took a lead, Malta fell away in the televote, and RAI took the lead back when San Marino's vote came in. It was a two-horse race: RAI had a lead of six points, then it was shaved away. By halfway, AMPTV was within one point.
The key was a ten-point swing to RAI from Montenegro. Then came the results from Italy, and then from Armenia, and six more points turn a nailbiter into a comfortable win. BNT of Bulgaria came up as the stagger unwound, and just pipped AMPTV for second place. Which means two of the top three songs were aimed at very young children, an age that would be excluded from a competition for teenagers.
The show ends with everyone charging the stage, and finishes with Vincenzo reprising his song with a hundred or so backing dancers. It's all the other performers joining him on stage.
Hashtag-together.
This Week and Next
News from the Eurovision Song Contest For Old Fogies. We won't be seeing a performance from Bosnia-Herzegovina in Vienna next May, more's the pity. BHRT doesn't have the cash to splash on a quality song. But we will be cashing in our Czechs: CT are to send only their fourth entry. The performance in 2007 failed to trouble the scoreboard, in 2009 they picked up One Point, and 2008's entry managed to beat the Hungarians. "We hope to offer Europe a top quality Czech song," said Czech Television's spokesperson. That would be a first.
What happened when a champion went to add a Fifteen-to-One Winners' Trophy to his Mastermind bowl? David Clark tells the story.
So, let's get this right. Manchester lost on University Challenge with 160 points, and come back. York lost to Durham by 210-160 and don't get to come back. But if Durham lose in the next round to Manchester with a score of 160, they will get to come back. This show just makes it up as it goes along.
No such difficulty on Only Connect, where the Coders (runner-up on Britain's Best Brain) come up against the Romantics (managed The Levellers). OK, so the host doesn't fully understand the qualifying system. But she does understand that two wins are good, two losses are fatal, and one loss this year won't eliminate anyone. Both these teams have lost one, and the loser tonight goes home.
One point for the Romantics on foreign equivalents to "plc", and Victoria impresses us with her German pronunciation. One for the Coders who haven't lost all their senses. "Are they pairs? Of sisters? Of the Queen?" No Peppermints for you: question three is the forenames of the Spice Girls. A bonus for the Coders.
The music question falls to the Romantics, they quickly move to clue 2, and take a long time to hear it. "Dogs" is the link, and three valuable points. For "ring" and "bar", the Coders offer "found on a one-armed bandit". Horseshoe fits that, fridge doesn't; magnet sticks, and the Romantics have a 4-2 lead.
Sequences begin with the pictures: Queen, Florence Nightingale, a woman at prayer. Is it Jane Austen, the next woman on a banknote? Elizabeth Fry was the third person, and Austen will be on the tenner from 2017. That's a bonus for the Coders, who think there are creative commons licenses. Not quite: turns out to be "CCCP over USSR", a throwback to the days of the cold war earns Defcon 2 points.
The Romantics have their hand on the Five Point Klaxon when they see "Slieve Donard", the highest mountain in the UK. "Scafell Pike" proves it's one per country of the UK, ending in "Ben Nevis". That's three good points. Another two for the Coders who add one coin from their loose change to get 18p. And, by coincidence, 18p is the budget for this series after they've covered Victoria's drinks fee.
"1: one, 2: three, 3: eleven, 4: seventeen" is an easy bonus for the Coders. "at Rest, is Rich, Redux" is in the world of fictional titles, but where? "Run"; it's John Updike's "Rabbit" novels in reverse. All the points have the Coders ahead, 8-7.
Coders extend their lead on the wall: Marys, steaks, and then they grind to a halt. "Chocks away, Saturn's rings, Granita, Jump ball" are evocative clues; the groups turn out to be things made of ice and things marked by thumbs up. Ten points!
Romantics have flotation devices, presses, things to get rid of vampires, and soaps. But oh woe! They claim the floats are skateboard tricks (did you ever see Ollie Fliptrik do a Mae West?) Seven points!
That's given the Coders a lead, 18-14. Coders lose half their lead on the first fictional boat by putting "The" into "Jolly Roger"; Romantics sweep the category for the lead. Old and current names gives the Romantics a two-point lead, but Islands named after their day of discovery is four for the Coders and a two-point lead. Flat horse races heads to the Romantics by two, and there's a point each in days before English bank holidays.
End of the round, end of the contest, it's 24 to the Coders, 24 to the Romantics. As we discussed last week, that's a tie-break, a captain's challenge with an apposite quotation.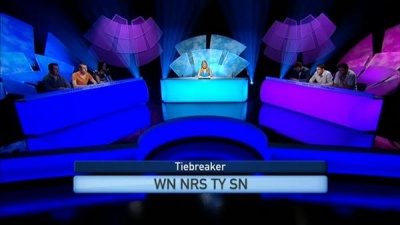 The Coders win it, and winner stays on. Bit like Eurovision, really.
Matters arising! They've not done highest mountains in the home areas before; in Scotland and England, yes, but not across the UK. That mountain answer will not change when Yorkshire gains independence, as Mickle Fell is about 200 feet shorter than Slieve Donard. The trouser press is alive and well, and living in hotels. Hotels that haven't been refurbished since the 1980s, we find. And the BBC2 continuity announcer who told us that the show would end in a tie is just annoyed that he can't take part. (BBC staff can't enter, nor can their relatives.)
Mastermind continues to shine a spotlight upon five people, most of whom aim to answer questions correctly. David Greenwood proved most successful this week. He scored on the Life and Career of Theodore Roosevelt, a friend of bears in Mississippi. That's one of few things Mr. Greenwood didn't know, reaching 11 (1). Going last, he needed eleven to win, started with confidence, wobbled in the middle, and finished strongly. 25 (5) won the night, it might not win a semi.
Jon Clatworthy answered on Star Trek Deep Space 9, a science-fiction television show from the 1990s. Humpo's usual problems with non-English words slowed the contender's down; Mr. Clatworthy was a point or two better than 10 (0). An early pass didn't throw his specialist, and some bumps didn't derail his general knowledge round, which finished on 21 (0). Take the experience, come back in a couple of years, and we'll see you in the semis.
Pamela Woods had the Novels of James Herbert, which seem to be English works with paranormal twists. 4 (1) increased to 14 (4). Ten points on general knowledge: good score! Gordon Fyffe took Pink Floyd, a rock group active from the late 1960s to the present day. 5 (1) became 10 (11) in a round that went straight from Tony Blair to Pontius Pilate. Hats off to the question editor!
BARB ratings for the first full week of November.
Strictly Come Dancing remained top of the pile, 10.5m saw the Saturday show we reviewed last week.
The Apprentice Coach Tours (7.7m) remains comfortably ahead of The X Factor (7m). Pointless Celebrities ran at an even 5m.
Just under 3m for Masterchef The Professionals, University Challenge, and The Apprentice You're Fired; Keep It In the Family (3) beat them all by a whisker.
The Great Interior Design Challenge returned to BBC2, and 1.8m made sense of it. We'll try for a review in the coming weeks.
A quiet week on other channels: 1.5m for Celebrity Juice, 1.35m for 8 Out of 10 Cats, and 915,000 for Xtra Factor. There are 258,000 watching Bigg Boss (Big Brother from India) on Colors, a fifth of Channel 5's regular viewing figure.
This week, the Antiques Roadshow (BBC1, 8pm Sun) finds out the value of a priceless heirloom. Paul Sinha has a comedy show on Radio 4 (6.30 Wed), and there's nothing new starting in the world of game shows. Next Saturday has dancers on Pointless Celebrities (6.10), Jonathan Ross on The Chase (7pm), with Strictly at 7, X Fac at 8, and I'm a Celeb at 9.45.
Photo credits: PBS/EBU, STV Sweden, Parasol.
To have Weaver's Week emailed to you on publication day, receive our exclusive TV roundup of the game shows in the week ahead, and chat to other ukgameshows.com readers, sign up to our Yahoo! Group.