Weaver's Week 2016-03-13
Last week | Weaver's Week Index | Next week
Best show of the still-young year, folks!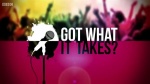 Rize USA for CBBC, 6 January – 9 March
The music talent search is a very familiar format. Audition rounds, a further cut, live shows, someone leaves each week, and a winner who we'll never hear of again. Got What It Takes? blew all that away. Eight young talents started the process, and all could still win as we started the final.
By "young", we mean young – most were aged between 12 and 14. Old enough to have practised, old enough to be good. But not old enough to be on set without their mothers. Their mothers weren't just on set to look after their sons and daughters. No, the mothers had a role in the contest.
Each week followed a routine. David Tench, the musical director, introduced this week's song. Over the series, he selected a decent variety of tunes – pure pop, acoustic folk, all-out rock, smooth soul. This was a modern music programme, so no opera. Not this year.
Lauren Platt gave her interpretation of the song, usually a slowed-down vocal line. Pitch-perfect, but lacked impact. Let's be generous, let's say that Lauren did this to emphasise the vocals and allow the young talent some space to better her performance.
Then there was an "industry challenge", where the group learned something about the world of pop music. Here we had the guest celebrities promoting their own abilities. Diversity taught dance, and CBBC's Cel Spellman gave interview training.
Each guest judged a competition relating to their skill. Lucy Spraggan, the singer-songwriter, asked pairs of competitors to write a song in an hour, and perform them for her. Some of the songs showed promise and merit; some of them sounded like they'd been knocked off in an hour.
Though she didn't do it in so many words, Spraggan slagged off The X Factor. Well done. It's one weapon in a great talent's arsenal, it's not the only route to a music career. (And when she comes to your town, go see Lucy Spraggan. A show like no other.)
Carrie Hope Fletcher – she's Éponine in the current stage run of Les Miserables – dropped in. She brought a "stage presence" challenge; carry on reading the trite lyrics of Coldplay while there's a gorilla in their midst and while getting silly string in the face. Yes, there was gunge, but it took till episode six, and there was strong editorial justification. Can the stars keep their head while others are misbehaving? Can you sing while your violinist throws eggs?
We're not in the target audience any more.
Bradley from S Club 7 was a guest, and Lauren noted, "S Club had their hits before most of these performers were born".
We're not in the target audience any more. Guns n' Roses had their hits "way back in the 80s". For these performers, "Sweet child o'mine" is a sketch, they can take the song and put their own spin on it. Such as a country twang. And they're able to give criticism to Waxl Rose. "This second verse is rubbish, it's like he ran out of lyrics."
Two of the eight won out from the industry challenge. A third winner emerged from the mums' challenge. This had no link to the music business, or to the performances at the end of the episode. It was a physical event – skittles in a giant hamster wheel, or speed over an army assault course. Kevin Adams – we remember him from Fame Academy – led the tests for the mums.
This section was light relief for the viewer, it broke up what could be a monotonous tread of learn – rehearse – perform. But we sometimes felt that it was a little too far removed from what we'd seen before. Was there no way to link the children's dance task with some sort of dexterity test for their mothers? We got only the most tenuous links to performing popstars: "beating number 1" is a penalty shoot-out against the England goalie Karen Bardsley.
Three emerged for the end-of-show sing-off, two from the industry challenge and one from the efforts of their mother. Only these three got to perform the week's chosen song, in their preferred style. The mums were the jury for the sing-off, these eight picked their winner of the week. And whichever child won the most weekly sing-offs went straight through to the final.
Pop music needs a stroke of luck.
Not everyone could make the sing-off, and this was frustrating. All too often, the child who could make best use of the song would not get to perform. They'd lose the challenge, their mother would be bettered in her event. It's an annoyance. But it's life. We heard a story: pop music isn't entirely built on talent. A lot of it comes from luck, from having the right backers, from being in the right place at the right time.
Rather than straightforward pieces to camera, presentation was in the style of vlogs, and there are video diaries at the right moments. Most of the filming was by professionals, steady shots and pans and focus pulls and everything we'd expect. The sound throughout was excellent, and the edits were tight without drawing attention to themselves.
Lauren Platt knew when to narrate, and when to remain quiet. During some of the challenges, it can be minutes between the voiceovers, the challenge just ran itself. And she was absent for over half the programme – she turned up to introduce the song, and then to host the sing-off on the following day. It allows the children, the performers, to star in their show.
There was a slight change of pace for the final two episodes. The sing-off winner booked her place in the final, and the other seven went to a recording studio. There, they performed one song of their choice. The viewing public chose their favourite three to reach the final. It's the only bit where the CBBC audience got to save someone, and it meant everyone was still in the contest at the start of the final episode.
Got What It Takes? told its stories with style.
The final was shot in a studio, the four finalists sung twice on a stage. Again, the shot direction was superb. We saw a lot of the singer – she was the only person on stage, or moving towards the centre, or otherwise the focus. From time to time, and just for variety, we might cut to her mother, or one of the judges.
We've said in the past that the BBC has no clue about how to film its Eurovision Song Contest performances. Tucked away on this little contest, proof that the BBC does know how to film song performances for the television. The youngsters didn't always hit their marks, but the shot direction was flexible enough to cope with anything. We got stories here, we saw film to show off the talent.
And this happened throughout the series. Got What It Takes? told its stories with style and panache. It was quiet and understated for most of the time, so when the fireworks came out, it was a clear change of pace. Hayden King was the series producer, he had a vision for the show and brought it to life. We'll look out for his future work, another talent to watch.
Children know when they're being lied to, and demand honesty.
What was Hayden's vision? Oftentimes it felt like the show said "Got what it takes? No? Cool. That's fine by us; being a pop star isn't for everyone. Being a commercial pop star isn't for everyone."
It's rare to find a programme that's so brutally honest about its subject, one prepared to undermine its own core idea. Which explains why it's going out on CBBC; children know when they're being lied to, and children won't stand for lies. Brutal honesty only works on the young, older people accept the lies. The X Factor relies on lies – that it's the only route to success, that it's a route to success. Simon Cowell needs people to suspend their disbelief, and it's good to see someone calling him out on it. Sometimes, older people believe the lies.
Amaria will get the chance to perform at Radio 1's Big Weekend festival in Exeter. OK, it's on the Introducing stage, and likely at 11am, but it just might be the start of something big.
And if it's not? Amaria will have an experience to treasure for the rest of her life. The other seven had life-changing experiences.
And that is all we can ask of a game show.
University Challenge
Quarter-final 2: Imperial v Liverpool
Joining us this week are the team from Imperial: Ben Fernando, Ashwin Braude, James Bezer, and Onur Teymur. Their opponents were Liverpool: Jenny McLoughlin, Jack Bennett, Robin Wainwright, and Ed Bretherton.
Imperial got the first starter, about a cathedral holding the Magna Carta. There are only four to pick from, and a guess on the second fact (built on limestone) proved successful. Both sides suffered a missignal penalty, then Liverpool grab a pair of starters and some bonuses on game theory. Bezer pulls out "Near — Earth — Asteroids" for those low-flying rocks, stopping the Liverpool surge in its tracks. And, after conferring for a very long time on the names of Asian countries – and stopping from saying "North Korea" when Paxman continued the question – Imperial took the lead.
The annual Walt Whitman question leads to the flags of breakaway bits of the former Soviet Union. Remember, none of these are actual countries, and Richard Osman has bagfuls of points to dish out. Liverpool get 10, Imperial have questions on the cast of The Big Bang Theory. (It's a documentary on E4.)
No, that wasn't an interruption from Braude: no, this doesn't alter the result of the match.
Yes, that was an interruption from Braude, and from the bit of the question we heard, we don't see the difference between "cardioversion" and "defibrillation". But we didn't hear the full question. We heard:
In medicine, what term denotes the administration of electric shocks to the chest in order to reset normal heart rhythm in a person who's experienced...?
Five interruption penalties hurt Imperial.
Yes, that was the Sarabande by Handel, as heard on Channel 4's The Search some years ago. Imperial get another missignal by confusing the zenith and the nadir: it's like confusing the North and South poles of the planet. Liverpool can't convert many bonuses, but their buzzer work – and Imperial's errors – are enough to keep them in the lead.
To buzz in on "Rayleigh scattering" is brave. And foolish: who could possibly guess the way the question would turn and get to the answer "four"? Liverpool are fined five, but again University Challenge continues to ask a simple question in a convoluted and prolix way. Imperial pick up the question, and most of the bonuses, and have the lead.
But not for long: Imperial get yet another missignal after confusing Australia and Brazil, allowing Liverpool to pick the starter, and bonuses on young animals. Liverpool take advantage of a complex set of bonuses, on years that are anagrams of each other – five points and a minute off the clock. Robert Burns gives Liverpool the victory, by 185-130.
The next quarter-final follows in two weeks. Imperial will take on York in the last-chance round, and can't afford five missignal penalties.
Semi-final 4
A tight game this week. We'll take the order in the general knowledge round, so begin with Dennis Tomlinson. He'd scored 7 on Sylvia Plath, and picked his way to 19 (1 pass). He forgot the country of Chester-le-Street, once worth a million pounds. And he credited "Too many broken hearts" to Kylie; it's Jason, and it's the best four seconds Stock Aitken and Waterman ever made.
David Horan made 8 on Ever Decreasing Circles; he forgets Boris Johnson's new seat (Uxbridge English Dictionary) and advances to 18 (4). Which, to be fair, is one less than he made in his heat's general knowledge round. Christine Harrison took 8 from Women in the Olympics, and gently calls the right answers throughout. She reaches 22 (1 pass), which is very good for the semis. But not necessarily a winning score.
Eight also for Graham Barker when he took Ray Davies of The Kinks. This contender doesn't let himself be riled, doesn't dwell on his errors, flows with each question. But this doesn't conceal just one too many gaps in his knowledge: 20 is not a winning score.
Tom Mead defends a lead, he scored 10 on Roddy Doyle's Barrytown series. Thirteen to win would equal his heat score, but it leaves little room for error. He needs to know his mayflies from his fruitflies, his Valencia oranges from his Sevilles. But he falls into both errors, and also closes on 20.
So Christine Harrison takes the fourth place in the final, still scheduled for All Fools' Night.
This Week and Next
A song about football in Wales.
We enjoyed Can i Gymru last weekend. The Welsh-language song contest was packed full of songs with meaning. About being young and going to gigs in dirty pubs. About life-changing events. About the Wales national team reaching a football contest. Our favourite of the eight was "Caeth", a very modern electronic bed over which a vocal warbled: if it were in English, radio would love the song.
The winner was a bit brilliant. "Dim ond un" featured close vocal harmonies from three young women, like the Sugababes version 1. And the song has a meaning, about mental illness and how no-one's ever alone. Quality harmonies, contemporary stylings, songs with meaning. No wonder Can i Gymru remains the UK's premier song contest.
Repeating the question
Elsewhere, Ewen Macintosh and Bother's Bar asked, "Is Pointless the only quiz show where they read all the questions out twice?" And no, this doesn't cover shows like Perseverance where the idea is to ask the question twice. We had to think about this one for a bit, always the sign of a good question. Eventually, two other quizzes sprung to mind.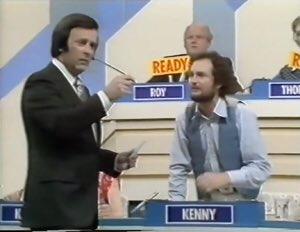 One we covered recently: Blankety Blank. Terry Wogan would read out the question so the contestant could hear it. Then he'd read it out again for the benefit of the panel, give them a little thinking time, come up with the obvious and predictable answer. Does Blankety Blank count as a quiz? Possibly not.
The other example is a show of comparable erudition and intelligence, Round Britain Quiz. Tom Sutcliffe will read out the most complex and convoluted question for the teams and listeners. And then he'll read it out again, help us to understand the nuances and clues in the phrasing. As on Pointless, everything is repeated except for the sound clips.
Taskmaster has confirmed its competitors for a second series. Jon Richardson and Joe Wilkinson from Catsdown will be joined by Richard Osman, Katherine Ryan, and Doc Browne. Greg Davies returns as the titular master, Alex Horne remains his consigliere. The new series of Taskmaster will air on Dave later in the year.
In further Richard Osman news, Insert Name Here has been commissioned for a second series.
BARB ratings in the week to 28 February.
Call the Midwife winds towards a conclusion, with 10.2m viewers this week. The Great Sport Relief Bake Off finished with 6.75m.
The Voice had 6.35m for the shouting rounds. Saturday Night Takeaway was seen by 6.15m, plus 1.85m on ITV-HD, and 560,000 as Sunday Teatime Takeaway on ITV2. It's a much more civilised slot.
In the Sunday evening battle, The Best of Dragons' Den 2.25m, Let's Play Darts 1.75m, versus The Jump 1.85m. University Challenge brought 3.15m to BBC2.
Take Me Out The Gossip had 995,000 on ITV2. A League of Their Own 790,000 on The Satellite Channel, and Eurovision You Deride had 745,000 on BBC4.
BBC3's secret 2am schedule of repeats is required so the BBC keeps its EPG place. 17,000 people see these shows. That's as much as music video channel VH1 gets for its top-rated show.
Last in the present series of Let's Play Darts for Comic Relief tonight. We were shocked at the faffing around quotient last week: a full 15 minutes between the first match ending and the second beginning. C'mon, The Jump can injure at least two minor celebs in that time. (Champion of The Jump was Ben Cohen, the first winner not to be called "Joe".)
The big event this week is Celebrity Juice Live (ITV2, Thu). The Sport Relief telethon (BBC1, Fri) brings us an Only Connect special (BBC2, Mon). The Chase Australia comes to Challenge (weekdays), do remember to turn your set upside down. The Eggheads producer says Thursday's episode is a very good one. And there's a new Pointless Celebrities next Saturday.
Photo credits: Rize USA, BBC, Jasmine Braithwaite.
To have Weaver's Week emailed to you on publication day, receive our exclusive TV roundup of the game shows in the week ahead, and chat to other ukgameshows.com readers, sign up to our Yahoo! Group.