Weaver's Week 2016-07-17
Last week | Weaver's Week Index | Next week
Last week, we demonstrated that everything could be blamed on Piers Morgan. Who is the target of the Two Minutes' Hate this week?
Five Productions for C5, 23 June – 14 July
Ah, let's tweak the tail of Eamonn Holmes. He's in the middle of a featherbrained panel discussion show. Kelly Brook and Vicky Pattison are team captains. The show goes out at 10pm on Thursdays.
Comparisons to ITV2's fashionable Celebrity Juice are inevitable. The obvious difference: It's Not Me It's You claims to be "about" relationships. That's in the same way Celebrity Juice is "about" topical events, or the weather forecast is "about" the news headlines.
Any panel discussion show has to begin with a monologue from the host. This one begins with a monologue from the host, staring straight down the autocue. Then we meet the panel; it would be a curious panel show without a panel.
Before the series began, the press release banged on about "First Impressions", a round where Eamonn read something by one of the panel. Would they own up? Would they feign ignorance? Would they claim they had been misquoted and taken out of context?
But when we saw it, "First Impressions" was absent. It sounds like a slow start, burdening someone with embarrassment from the beginning. It may be a stronger show for the omission. And by "stronger", we mean "less weak".
Let's Break a Deal
The first round proper is Deal Breakers. Here, the teams attempt to guess what the audience said. Before the show, the researchers asked if something would make them want to end a relationship. Being serenaded on the street, will that make the audience want to ditch someone?
Now, the teams aren't trying to predict the UK standard response. They're not even looking for the response from the people watching at home. No, the panel is trying to gauge the answers from the studio audience.
The studio audience. People who give up their time and money to be in the same room as Eamonn Holmes. Don't treat them as representative.
And it's not only the audience who are a bit strange. The questions are selected to feed into anecdotes from the panel. Has Martine McCutcheon ever serenaded her date? Would Martine want to be sung at? Depends who it is, surely.
Eamonn dishes out points for guessing the public response, and doesn't award them for wrong answers. The round continues for ten minutes, and we were happy to fast forward through at least one of the segments. People we don't much care for, wittering on about their love life: dull.
Before the first commercial break, an announcement by voiceover man Christopher Biggins. He's promoting the call-and-lose contest. Someone will win a trip to Venice and £500. A lot of people won't.
Part Two
The essence of a panel show is familiarity. Most things remain the same from week to week. The host, the captains, the rounds. These elements make a frame, they give the programme some structure. In turn, the entertainers can concentrate on entertainment, they don't need to waste time explaining the mechanics of the show. Even the fact it's a comedy panel show helps. Compare the laid-back rules here with the complex and officious Bang On the Money.
Familiar elements are important, but there is room for special guests to show their talents. "Steph and Dom's Love Potions", for instance. Take two commentators from Gogglebox, give them concoctions. Ask them to work if the drink is an aphrodisiac or for some other purpose.
Or bring on Lesley Joseph, to play a round based on her character from Birds of a Feather. Never mind the difference between reality and fiction, just live up to the stereotypes. And Lesley is so good at playing this stereotype.
There are filler elements, quick rounds that can be taken out of the edit as required. "Bonkbusters" shows a Hive Minds grid of celebrities, and asks the teams to work out the longest chain that have been romantically linked. Quick and almost intellectual.
"You complete me" is the missing words round, based on quotes from celebrities and famous people. Points for right answers, laughs for apt and wry gaps. It's all done in the spirit of Blankety Blank.
"There's still time to enter the call-and-lose contest" blusters Biggins in the voiceover. Of course there is, lines don't close until September.
It's Just a Tap to the Left (And Then a Swipe to the Right)
The final round replicates the superficial elements of dating-by-app. "Love at First Swipe" begins with a member of the audience, and sixteen potential dates. Who is in the Connecting Wall, and who'll end up Missing Dates?
The picks are locked in, and the captains attempt to work out which dates were chosen. The captains can tap the screen to find out additional information about the dates. The television trickery is clear: the dates are being lined up by a locked-off camera. The show doesn't make much effort to hide this, and we reckon it adds to the sections' appeal.
The best bit, though, is the banter between the captains and dates. "You're from Transylvania? What kind of girls do you go for?" asks Vicky Pattison from I'm a Celebrity. "Dead ones!" calls Kelly Brook from The Big Breakfast. It's done in good spirit, frothy and amusing.
Throughout the show, Holmes peppers the script with asides. Many of them are jokes against himself, snark at his marriage to Ruth Langsford. Good to see he's secure and can take pot-shots at himself. At times, we think he's channelling the spirit of Angus Deayton. But then we remember Eamonn's years of experience reading nonsense off the autocue on GMTV.
There's lots of bad language on the show, it is a 10pm programme. Accurate uses of the f-word, and plenty of unsubtle innuendo. But we never feel that the show is dirty: the programme is raunchy without ever being lewd. That's a very difficult line to tread, and we're impressed that they don't cross it. A deft editor could turn the rounds into pre-watershed entertainment.
It's Not Me It's You has some default assumptions. The panel and viewer are assumed to be sexual, and heterosexual. For the first three episodes, the contributors were entirely white, there wasn't a single person of colour until this week's edition. It would be interesting to compare other experiences, and we're uneasy that the show has ignored so many people's lives.
Our view? It's coloured by our baggage: don't much like panel shows, don't much like raunch, and have no affinity with the regulars. But we found the show to be an entertaining half-hour, and it gets better as it goes on.
"Deal Breakers" is a limp excuse for the panel to opine and tell anecdotes. The same anecdotes they've trotted out before. The special round varies: some are inventive, some clichéd. The missing words round is out of place: surely the whole joke is how blanks could be filled with smut, but never are. "Love at First Swipe" is a hit. Not from guessing what Jo Public will do, but from the sheer energy and comedy of the situation.
After four episodes, It's Not Me It's You appears to have been "rested" by Channel 5, so that it can do some more with Big Brother. We hope the show can use the break wisely, and address some of the weaker points. That would turn an OK show into an upper-tier one.
Pokémon Go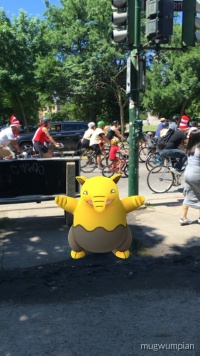 The mobile phone game Pokémon Go came out late last week. The app hides Pokémon characters in an urban environment: the challenge is to collect Pokéballs to catch the Pokémon, then bring them to a Pokégym where they can have a fight. Winner qualifies for the World Series of Poké.
Within a week, it's become ubiquitous. Tom Scott Of The Internet noted, "Walking through Central London. Passing so many Pokémon Go players on their lunch breaks, alone or in groups. Never seen anything like it." Gizensha of The Fifty-50 Show added, "When I was last at my butcher's, two of the staff were talking about pokemon as if it were Bake Off or X Factor."
Lewis Murphy of The Fifty-50 Show made a bold prediction: "Within 2 weeks every last one of you will have uninstalled pokemon from your phones." He may be right, Pokémon Go could be a flash-in-the-pan, like Draw Something! from March 2012. That won't stop Channel 4 from making a thinly-disguised television version, Catch 'Em All for autumn 2017.
How will this work? Travel round the environment (a park, a corner of the city, a large building) to gather Catch 'Em Globes. Use these spheres to lure out the Catch 'Em Beasts. And then gather these beasts for a final challenge.
This could be a team competition – some Catch 'Em Beasts only emerge if they see other beasts, and the prize is easier with the right combination of smaller beasts (or lots of eggs). As much Golden Snitch as running up the score.
And it's a flexible format: bright and sunny and silly if you film it outside. Or consider a game in a dark and disused hospital, with surprise traps lurking to scare players.
This Week and Next
News from the radio, and Colin Murray has left INR3. The medium-wave station broadcasts talk about sport, and has recently been taken over by News International. Colin is unhappy about that, and especially unhappy about potential tie-ins with The Sun fibspaper. This could be very good news for fans of Fighting Talk on Radio 5, the show hasn't been as good without him.
One more departure, in a week of them. Len Goodman will leave Strictly Come Dancing after this autumn's series. Len has been the head judge since Strictly began in 2004. He'll still be the lead judge on Ballroom With the B-List on ABC (Disney), and he'll still make programmes for Radio 2.
Love Island finished on ITV2, won by Nathan Massey and Cara De La Hoyde. There was a "cash or split" option: one of the winning couple picked an envelope with £50,000, and could keep it or split it with her partner. Host Caroline Flack knows this bit is bobbins, and got it done as quickly as she could. Expect more Love Island next summer.
The intellectual quizzes returned. On University Challenge, Bristol beat Sheffield by 210-130. Bristol were represented by Joe Rolleston, Claire Jackson, Alice Clarke, Michael Tomsett, Sheffield by Amy Fedeski, Jack Lewis, Edward Pemberton, Ben Cotton.
A reader notes, 'It's like being able to tell how posh people are on university challenge by whether they are "reading" "studying" or "doing"'. This week's verb count: study 6, train 1, do 1.
Next week's match will be interesting, the return of 2009 champions Corpus Christi Oxford. In this column's view, UC from schedule-filler to cultural hit when Gail Trimble led her team to victory in the title match, and the subsequent disqualification was noxious. But we expect this achievement will be written out of history.
Only Connect pitted the Tubers (David Prevezer, Jack Welsby, Hugh Brady) against the Bardophiles (Charlie Cook, Sue Barnard, Tim Hepworth). Tubers won by 29-13. We think Tubers sealed victory on question three, spotting "umbrellas" from "2014 Hong Kong protests" and a work of art. Only Connect now runs to 37 programmes, so not every losing team comes back in the return fixtures.
Mastermind had a very high-scoring heat. Sarah Lake was victorious, scoring 28 points (and 1 pass) after a specialist round on Joni Mitchell. Andrew Craig followed on 27 (0 passes, specialised in History of Aviation). Richard Aubrey had 26 (1, Alan Turing) and Ian Dunn 26 (4, Bleak Expectations).
There are some changes to presentation, with moving shots up and down the contenders' torso, and a coloured border around the scoreboard counts down the final seconds of the round. We'll watch more closely in a few weeks.
Rose d'Or nominations are out!
Game Show
Entertainment
In the radio categories, a nomination for The Museum of Everything, what happens when the QI Elves are let loose with a microphone. Paul Sinha is up for his History Revision comedy show.
BARB ratings in the week to 3 July.
Euro '96 Post Match was the top-rated show, bringing 11.9m to BBC1 on Friday night. It followed the match where Chris Coleman's Team beat Equipe Marc Wilmots by two soccerscores to one.
Top game show was the first in a new series of Celebrity Masterchef, 4.8m on Wednesday. ITV-SD bit back, 3.35m for Catchphrase and 3.22 for The Chase.
Sewing Bee continued, 2.8m put it ahead of the Top Gear final (2.65m). The Getaway Car achieved 2.2m on transmission day. Mock the Week pulled 1.65m on Friday night, just eclipsing Big Brother. Dragons' Den Pitches to Riches looked at the series history, 1.5m viewers.
Massive scores for Love Island on ITV2, 1.54m on Monday. By comparison, the Wimbledon shift to BBC4 brought 1.08m viewers (plus a few who tuned in for Top of the Pops). Taskmaster is also doing great guns on Dave, taking 705,000 viewers.
America's Next Top Model took 300,000 on Living, and Masterchef 225,000 on W.
Coming up next week, Victoria Coren Mitchell appears in the World Series of Poké. Before, a new champion on Taskmaster (Dave, Tue). There's a Strictly Come Dancing Prom (Radio 3, Thu; BBC4, Fri), and Master of Photography (Artsworld, Thu) promises a massive prize.
Photo credits: 5 Productions, Topher McCulloch under CC-BY.
To have Weaver's Week emailed to you on publication day, receive our exclusive TV roundup of the game shows in the week ahead, and chat to other ukgameshows.com readers, sign up to our Yahoo! Group.