Weaver's Week 2016-12-11
Last week | Weaver's Week Index | Next week
What happens if you put lots of daytime shows into a blender, reduce them to components, and reassemble the bits? We think you could get something like Tenable.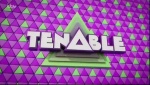 Initial (part of Endemol Shine Group) for ITV, 14 November – 9 December
Teams of five apply for the show. They know each other, and they'll share any prize. See also: Eggheads. This is unusual for daytime. More common is for couples to apply together (see Pointless and The Code), but larger teams are often made by the producers (see The Chase).
Like on The Chase, our team will work as individuals for their place in the final. There is a captain, with a special privilege (they're assured of a place in the final) and special responsibilities. Both of these elements were seen on Pressure Pad a few years ago, they remain uncommon on daytime shows.
The questions on Tenable are lists. Top ten lists, to be exact. It's a welcome change from quickfire trivia: lists are long enough to provide minutes of entertainment, but ten is small enough that we can see the end. Guessing elements of lists is the key of primetime fave Who Dares Wins.
The team gets to see the question, and then the captain nominates one of their colleagues to play the list. The initial target is five correct answers. This secures the player's place in the final, and adds £1000 to the team prize fund.
Further correct answers add more money – £2500, £5000, £10,000, £15,000, and £25,000 for completing the list. The player can stop at any time. Again, feels a bit familiar from Who Dares Wins.
Each player is allowed to give one wrong answer, but a second wrong answer takes them out of the game. Across the show, the team has three "nominates" – before giving an answer, the player may ask one of their team-mates for advice. Unlike on Decimate, the player isn't bound to accept the advice.
Another element from Decimate is the "over-rule". Here, the captain (and only the captain) may block an answer, and substitute one of their own. Both answers are tried against the list; if the original answer was right, it's inserted on the list but doesn't count towards the required five. One over-rule is allowed on each list.
Once the player has reached their five answers, the nominates and over-rules are disabled, the player is on their own. Stop at any point, of course.
The captain plays their own list; five correct answers allows them either to bring someone back in the game, or take the cash.
After five rounds of this, we reach the final round. The captain is involved, so is anyone who has survived their personal list. Some money has been brought forward, and it's all on the line now. All of it.
The task is for the team to give all ten answers. Get all ten, and the thousands of pounds are theirs. Fail, and no money at all is won.
In turn, each player steps up, gives an answer. Get it right, tick it off the list, and that player can come back. Wrong answer? Out of the game at once; there's no "you're allowed one wrong answer" any more.
The result is a game that promises much, but awards little. This is true of the money – in theory, a team can win £125,000. In practice, most teams will leave with nothing. We get a winner about once a week, just as on The Chase, just as on Double Dare. Tenable isn't offering several hundred each day (see Think Tank (3) on the other side), nor is it waving a massive but impossible jackpot (see Alphabetical).
The lists are well-chosen, and it's very easy to play along at home. There's going to be a bias towards entertainment and pop culture. Of course there is, it's an ITV programme and it's got to play to an ITV audience. But there are few chestnuts, the sort that players can revise. We've not seen "ten highest mountains in Africa". Nor have we seen survey questions – everything comes from a sensible source that we can check afterwards.
As an example, here are the lists used in last Tuesday's episode:
Top ten most popular baby boys' names in 2015 beginning with "J"
Top ten English Premiership rugby union teams after the 2015-16 season
First ten Britney Spears singles
First ten values on a dartboard
First ten characters in the opening credits of Grease (the 1978 movie)
Top ten highest-grossing Colin Firth films of all time
(The team rejected "Decathlon" as a final category. We can guess what that was.)
That's two film questions, one sport (and another rejected), one pop music, and two pop culture. Unusually, nothing from current affairs, history, or geography. In our sample episodes, we've not seen anything particularly scientific.
Mercifully, the final lists are calibrated to be challenging and not impossible. When a team only has two players, we can be reasonably sure that they won't be winning big bucks. But the show isn't over until the captain's played, they could win back many eliminated players.
Tenable is a chummy programme, the players know each other, they bring their in-jokes and knowledge. And they generate their own atmosphere, they're already relaxed in each other's company. Warwick Davis doesn't need to work hard to make it fun, and at times it feels like he's trying a bit too hard. We're not sure that Tenable needs dad jokes at every opportunity. "You're terrible at Tenable" looks like a decent catchphrase, but Warwick doesn't deliver it well.
The set is done in purple, pink, and lime green. Highlights and captions are in white. The sound design is minimalist, a very quiet backing track with a stark chord progression. It's repeated endlessly, and gets irritating after a time.
So does the pace, when a team's not good they still have to stretch the programme to an hour, so it becomes slow. ITV ekes out its limited advertising allowance in the early afternoon, so the first two breaks are very short, and there's a long break after the show finishes. This sometimes translates to unbalanced programmes, with long first and second parts, and a very short end.
And finally, we get annoyed with the way Tenable uses vocabulary. "Tenable", as it's commonly used, refers to holding something. An "untenable" answer is one that cannot be held. One could use it to describe a wrong answer: it's unusual, but it's not wrong. The number "ten" comes from a different root, back to the Greek "deca". Nothing to do with holding. It feels sloppy, like they put anything out so long as it sounds plausible. And we know Initial is far better than that.
Overall, we think Tenable is okay, with more good than bad elements. It's very middle-of-the-road: mild intellectual stimulation, moderate jeopardy, ok prizes. It's entertaining, and it's great to play along with, but doesn't quite have the friendly atmosphere of Think Tank.
Tenable is competent and adequate: we don't complain about that, but we might like to see a bit more. Other commentators have loved this show, and we believe it's rating well. Given that Cash Trapped and Alphabetical have been renewed, we expect another series of Tenable will follow in the new year.
This Week and Next
Further depressing news from MGM Television about their next series of Celebrity The Apprentice (NBC). They're making a new series, which is depressing enough. They're going to pay a fee to the erstwhile boss, an illegal who was fired from The Apprentice last year.
Surely no-one will watch this horror. Democrats won't touch Celebrity The Apprentice for reasons we discussed last month, and the racist white supremacists will ignore it because they don't want to mix entertainment and politics. After next weekend's BBC final, this column will not give the oxygen of publicity to this rancid franchise.
Strictly Come Dancing is coming to RTÉ next year. For various licensing reasons, they'll call it Dancing With the Stars. The hosts were named this week: Nicky Byrne (Radio 2 presenter) and Amanda Byram (Total Wipeout field reporter).
Eurovision You Decide has gone up in the world. The 2017 edition will go out on BBC2, rather than BBC4. It'll also have a new venue, the Hammersmith Apollo.
Some things will not change. A panel of three "experts" will steer the public vote to the BBC's preferred choice. Er, er, we mean they will give honest and genuine critiques of the songs and performances, and it's a happy coincidence if they overlap with the producers' preferences. Mel Giedroyc hosts, and it'll all happen on Friday 27 January.
Back in May, this column took a quick look at how San Marino's televote was faked. Other votes occupied us after that, and we never got back to the question.
Ellie Chalkey and Ben Robertson of ESC Insight did have more patience and determination. And the non-negative least squares fitting algorithm to extract vote components. Televotes from Czechia and Malta were used for the semi-final vote, but what of the final?
Another blast from the past: Kenneth Yellowhammer has made another bid for KYTV. His company, New Millennium Vulpine, wants to pay £18.5md for the 61% of KYTV it doesn't own. KYTV now operates in German- and Italian-speaking markets as well as in these islands; full ownership would make Yellowhammer a very powerful media magnate, and be a nice gift for his son Jimmy. Yellowhammer's company attempted to buy KYTV in 2011, but had to withdraw when it became clear that another of Yellowhammer's companies was hacking emails.
Jesus 140, Wolfson 225 in the Cambridge derby on University Challenge. Well, that's ended the run of winners scoring 195. Jesus had the lead early on, and remained within 50 points until the closing minutes. Much comment elsewhere on Wolfson's captain Eric Monkman, and the way he shouts as loudly as Announcer Roger Tilling. Let's hope the two are never in the same studio... oh.
Only Connect moved into section B, and Victoria's brought the bar into the studio, or at least a glass of white wine. Fire-eaters and Clareites met.
If Jerry Lee Lewis ever did Top of the Pops, we surely wouldn't see him now... Really enjoyed "countries with one letter moved out to make a name", like Pru E... Goodness, is that regular quiz answer Margaret Thatcher as the five-point clue... Wonderful knowledge of the West Africa coast... When the BBC showed it, 24 lasted for just under 17 hours, because commercials.
Clareites had a remarkable approach to the wall, almost bringing up a Wrong Sort of Flashing Images warning. They brute-force as many combinations as they could in the time allowed, without ever coming close to a correct answer... and there's a wonderful clue in "homophones of birds" for albatross.
Fire-eaters took a big lead in the Sequences round, scoring 7 on their own questions and picking a bonus. Though the Clareites did well on the Missing Vowels round, the deficit was just too big, and the Fire-eaters win by 20-17.
Mastermind heat 22 was won by Steven Marc Rhodes, on a score of 31 (0 passes); his specialist subject was Nicholas Hawksmoor. It's the third winning score in the thirties this series, and the best general knowledge performance we've seen all year – 19 correct answers from 20 questions.
This stellar performance eclipsed all others. Samantha Hills scored 22 (1 pass) on The X Files, Gary Gilday took Andy Warhol, and Louise Earnshaw-Brown answered on Septimus Severus.
BARB ratings in the week to 27 November.
Planet Earth is back on top, 11.9m saw the nature programme on Sunday night. Strictly Come Dancing followed close behind, with 11.65m for Saturday's performances.
I'm a Celebrity continued, the week's peak was 10.35m on Sunday. 6.5m saw The X Factor on Saturday, and 4.8m for HIGNFY on Friday.
Pointless Celebrities repeats still rate, 4.6m for this week's. The Chase (3.6m on Monday) beat Masterchef The Professionals (3.55m on Tuesday). University Challenge just over 3m, and Only Connect had 2.6m.
Strictly Come Dancing It Takes Two pulled 2.2m, and Eggheads has lost some of its bounce from earlier in the autumn – down to 1.3m.
On the digital channels, 695,000 for Get Me Out of Here Now (Sunday edition), and 455,000 for a repeat of the main show on Sunday teatime. 8 Out of 10 Cats on More4 was preferred by 375,000 viewers.
Some finals: Masterchef Australia (W, Wed) had 270,000, Junior Bake Off (CBBC, Fri) 265,000, Landscape Artist of the Year (Artsworld, Tue) 185,000.
Who has won The X Factor? We'll find out tonight (ITV and TV3). BBC4 offers an alternative with a film from the Choir of the Year contest (Sun). There's also the final of The Next Great Magician (ITV, Sun).
Be very ware, Little Noely has tunnelled out of the studio. Where will he go as Deal or No Deal goes On Tour (C4, from Mon).
Gregg Wallace is the new host of Time Commanders (BBC4, Mon). The Royal Variety Performance (ITV, Tue) wraps up the Britain's Got Talent year. Cheryl Tweedy / Cole / Fernandez-Versini is on Who Do You Think You Are (BBC1, Thu).
CBBC marks Christmas this week, presumably so the channel controller can spend more time with his meat paste collection. Top Class and Copycats on Tue, The Dog Ate My Homework on Fri, and the Chalk Farm Salvation Army Band have a hill to climb on Thu.
Next Saturday has a new Pointless Celebrities and the final of Strictly Come Dancing.
Photo credits: Initial, EBU / PBS
To have Weaver's Week emailed to you on publication day, receive our exclusive TV roundup of the game shows in the week ahead, and chat to other ukgameshows.com readers, sign up to our Yahoo! Group.